Jeannine Kempees didn't start out that day intending to buy a store. She already had a thriving business selling her handmade clothing line at regional fairs and craft shows and had been living in Port Townsend for about five years.
But here she was at the Oregon Country Fair, assisted by Janice Speck, the owner of a successful boutique in the heart of town. "She was 60 years old at the time," says Kempees. "She looked at me and said, 'I think I'm going to sell my store.' I had no idea that this was going to be in my heart, but I said, 'I think I want to buy it.'"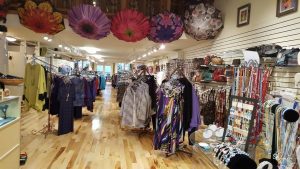 That was in 2003. Kempees went on to purchase About Time, a women's clothing, shoe, and accessory store in Port Townsend before eventually moving to Olympia in 2010 and creating a sister store, Belleza Ropa. Today she continues to operate both, traveling north every few weeks to check in with her staff and provide updates.
Although Port Townsend and Olympia are both picturesque cities on the water, the former has a much higher volume of tourists. As a result, people tend to shop differently at About Time, says Kempees. "They have a different mentality because they're on vacation. They often shop for more impulse buys, jewelry and small items, or big ticket items that they'll have shipped home."
Both stores offer personalized shopping, but they don't carry all of the same merchandise. "We can't quite carry everything the same at both stores because of competition. If you were a fan of Belleza Ropa and you went to Port Townsend, you would enjoy it for its similarities but also enjoy the differences," says Kempees.
At regular intervals the stores will do an employee exchange, with Port Townsend staff traveling south and Olympia staff heading north. "That way we share information and there's more understanding about both of our experiences," says Sarah 'Bear' Buffington, Belleza Ropa sales associate. "Both teams work together so we know what they're doing and they know what we're doing. There is more customer satisfaction because we can send for what we need and if one store has something and the other one doesn't, we can get the goods to everybody." The stores do a weekly product exchange, providing customers access to twice the inventory.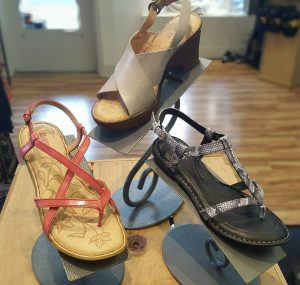 Buffington credits Kempees with creating a supportive atmosphere for employees at both stores that encourages creativity. "Some of the staff have come to us from larger stores and being part of a boutique is so refreshing for them," she says. "The communication is excellent and the stores provide an opportunity for people to think for themselves."
It all goes back to Janice Speck, says Kempees. "She was a very wise business woman and she had set up a lot of very successful systems for how to run the business from the employees' perspective. I was able to inherit a thriving, successful store." About Time recently relocated to 830 Water St, in the heart of Port Townsend, in a retail condo that Kempees purchased. "Moving into our forever home has been so wonderful," says Kempees. "It's only a two hour drive up 101, and I hope Olympians can come visit us there."
For more information about Belleza Ropa, visit www.bellezaropa.com or call 360-352-7672. About Time can be reached at www.abouttimeclothing.com or at 360-385-4795.
Sponsored