Ian Hesse had plenty of soccer scholarships to choose from, but one trip to Peoria, Illinois is all it took to finalize his future.
The 2016 Olympia High School graduate will play soccer for Division I Bradley University, a member of the Missouri Valley Conference, in the fall.

Hesse, a four-year varsity letterman and two-time all-4A Narrows League selection, chose Bradley over Colorado School of Mines, Kettering University and Colorado. He scored 10 goals as a junior as the Bears advanced to the Class 4A state tournament and accounted for more than a quarter of Olympia's offense this past season.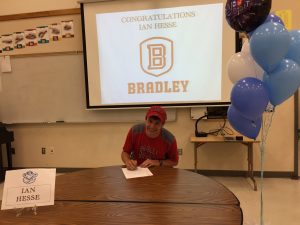 In addition to his success as a member of his high school squad, Hesse, a forward who possesses stellar speed, played for Washington Premier FC, serving as the club's captain this year while leading the team to the semifinals of the 2016 Presidents Cup. He was named to the Presidents Cup Best XI in 2015 after helping his team to the Presidents Cup championship that year.
Interesting, Bradley was just one of many schools on Hesse's radar prior to his campus visit over Christmas break. Once he arrived, however, the Braves immediately became his leading choice.
"Everything just clicked for me there," Hesse said about the visit to the private university which enrolls approximately 5,000 students. "The coaching staff was awesome. Education-wise it's what I'm looking for. It's a great opportunity."
Hesse, who plans to major in mechanical engineering or marketing, grew up in nearby Iowa before moving to Olympia in 2009. He has relatives in St. Louis, Missouri, which is about a 2.5-hour drive from Bradley.
"It seems right after he left the campus, Bradley became really interested in Ian," Hesse's father, Chris, said about the recruiting visit. "They started to give him the full-court press."
It's been a whirlwind senior year for Hesse as his family has been in the process of relocating to Austin, Texas. His father and sister moved to the Lone Star State prior to the start of the school year while he stayed in Olympia with his mother, Donna.
"We didn't want to do anything to disrupt his senior year or the recruiting process," Chris said. "I haven't missed too many games since he started playing. This year my wife would FaceTime most of his games for me, but it was difficult not being there in person to see him play."
Hesse will graduate on June 18 and then he will head to Illinois the next day, while his mother travels to Texas.
Hesse joins a strong 12-man recruiting class, which includes a pair of high school All-Americans and players representing seven states.
"The 12-player 2016 recruiting class is part of an overall plan we began last year to set a foundation of continued, long-term success of the program," said Bradley head coach Jim DeRose in a release by the university. "These 12 student-athletes will join seven redshirt freshmen from last year and, although we were the fourth-youngest team in Division I soccer last year, we will see more than 50 percent of our roster still with four years of eligibility.
"Additionally, we lose only three seniors this seasons, so it is our hope to see this group have Missouri Valley Conference and NCAA success as in years past," added DeRose. "Our needs in this class were two-fold: to bring in a core of players to contribute immediately and to add depth and talent to an already competitive training environment."
Bradley returns 16 lettermen from its 2015 team that finished second in the Missouri Valley Conference regular season despite its youthful status. The Braves (7-10-1) were able to excel despite limited collegiate experience. They played for the league title on the final day of the regular season before advancing to the semifinals of the MVC championship.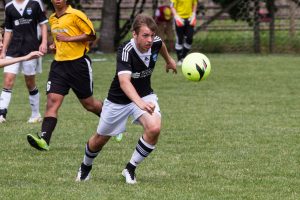 This year's 37-man roster will include 28 first- and second-year players, including 11 true freshmen, eight redshirt freshmen and nine sophomores.
The Braves open their 2016 season at home against 2013 national champion Notre Dame on August 17 before travelling for a pair of non-conference matches in Spokane – playing August 26 against Gonzaga and August 28 against San Diego State.
DeRose, who is entering his 21st year at the helm of the Braves program, has coached 11 All-Americans and has guided Bradley to seven NCAA tournament appearances, four MVC regular-season championships and three MVC tournament titles during his tenure.
"(DeRose) is just an incredible coach," Hesse said. "He was easy to talk to. There's a lot of adjusting to do, but I think it's going to be an easy transition for me."