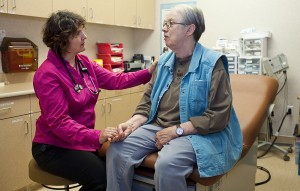 Being with people who are dying in conscious and caring ways is about respect and compassion. Everyone does not have a friend or family member who can be at their side during those last moments. Providence St. Peter Hospital in Olympia takes care to ensure No One Dies Alone.
No One Dies Alone (NODA) is a program at Providence St. Peter Hospital designed to support patients at the end of their lives with a dignified and compassionate death.
No One Dies Alone consists of caring volunteers, many of whom double as hospital employees, who generously donate their time and presence to provide bedside companionship to dying patients who would otherwise be alone during the end of their lives. These thoughtful, respectful volunteers are often referred to as the hospital's "compassionate companions" due to the comfort they bring to patients in their last hours and moments of life.
For the past six years, dedicated NODA volunteers have brought comfort to dying patients in a variety of ways. Whether holding a patient's hand (if this is comfortable for the patient), being a peaceful presence, playing soothing music, and/or reading books or poetry, volunteers offer calm, kind ways to bring comfort and companionship to dying patients.
The program, which is funded by generous contributions made through the Providence St. Peter Foundation, provides end of life care to patients at Providence St. Peter Hospital and Providence Mother Joseph Care Center, a long-term care facility located on the hospital campus.
Even if you don't have friends or family in the area, you can rest assured that during a difficult time, you have a friend in Providence St. Peter Hospital. To learn more about Providence St. Peter Hospital's NODA program, visit Providence St. Peter Hospital online or call 360-493-7240 for more information.
Want to become a compassionate companion?
Providence St. Peter Hospital welcomes and encourages kind, caring individuals to join its NODA team. Individuals interested in volunteering with NODA must become a hospital volunteer, attend a three-hour training session and make a minimum 12 month commitment.
Contact Daren Sachet at daren.sachet@providence.org for more information.
Sponsored