It's Friday afternoon at Gravity Beer Market, and owner Scott Brummel is busy greeting customers by name, filling growlers, retrieving special orders, answering the phone, and making beer and cider suggestions.

Gravity Beer Market, Olympia's first bottle shop, opened eight years ago. Scott and his team offer the same friendly service and tasty beer selection that regulars have come to expect. Scott worked at Gravity Beer Market for two years before purchasing the business from the previous owners last year.
Scott's goal is simply to provide the community with excellent beer and cider. "Just bringing delicious beverages to the area," he says. "The bottom line is supplying people with yummy beer, and answering questions."
"I'm very proud of my staff," he continues. "They're very knowledgeable. There aren't many beer questions they can't answer. We also try to be community minded. We like to support local community events."
The Raymond, Washington native lived in Seattle and Los Angeles before moving to Olympia almost 20 years ago. "Being from a really small town, Olympia has a nice small town feeling in a bigger city. I like the community here. I love the art scene here, and the music, everything, on an artistic level, about this town is great. And it has sort of that community that you don't get in big cities, and I really appreciate that. We've got a lot of great neighborhood support, being that we're imbedded in the Eastside," Scott says about living and owning a business in Olympia.
Scott hasn't always had a love affair with beer. "I'm a drinker, and not necessarily as far as alcohol. I'm just always thirsty. I've always wanted soda, or juice, or coffee, something in front of me. And at night, it becomes beer! And sometimes even during the day…" he says. He explains that he didn't drink much beer when he was younger.
"When I turned 21, not to give away my age, but there wasn't much as far as craft beer. It was starting to come out, but it wasn't as readily available as it is now. There were some good ones but it wasn't like it is today," he says.
Years later, when he started sampling beers again, he became interested in craft beer. "When I did come back around to beer, there was a whole new world to experience. I grew an appreciation for beer."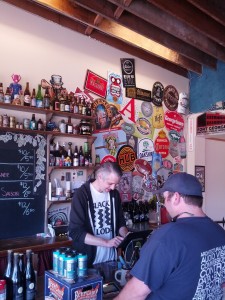 Whether you're looking for cider from Spain or wanting to fill your growler with local, Olympia-brewed beer, Gravity Beer Market has you covered. With four beers on tap for growler fills and 800 different bottles to choose from, there's something for every palate. Scott explains that he decides what to carry based on what his customers request, his own research, and often what the breweries he works with recommend. "I also follow the seasons. Right now we have a lot of IPAs, pilsners, and shandies, and ciders get more popular in the summer too," he explains.
Gravity Beer Market has an extensive selection of domestic and imported beers and ciders, with a focus on Northwest breweries. The shop also hosts two tastings per month, featuring five different beers from the featured brewery, poured by the brewer or representative. For $5, customers can try all five beers, chat with brewer, and get their hands on some brewery schwag.
They stock plenty of local beers, from Top Rung, Three Magnets, O-Town and more. "We were once a great brewing town and we're having a resurgence, and that's amazing. It's great, so many new breweries popping up right now," Scott says of the beer scene in Olympia. "We're re-earning the title Brewery City."
Gravity Beer Market is located just east of downtown Olympia, on the corner of Fourth Avenue and Quince Street. They are open seven days a week. For hours of operation and additional information visit their Facebook page.