One item not lacking for the Capital High School boys soccer team this year is senior leadership. The Cougars feature 13 seniors on the roster. A large number for sure, but certainly not unusual for the program.
"We've had similar to that number of seniors before, but what makes this group different from others is how close they are. Most of them hang out together when they aren't even in soccer," Cougars coach Andrew Lopez said. "They had an idea of how they wanted this season to go since they were freshmen. This season has been many years in the making."

Four years later and the Capital seniors have posted one accomplishment after another this year – first was winning the 3A Narrows League championship, then making an appearance in the District 4 title match.
Now, the final phase of their plan begins on Tuesday, May 17 when they host Glacier Peak at Ingersoll Stadium in the opening round of the Class 3A state soccer championships.
"This year has been really amazing. It's been that way since the start of the season," senior Sam Reimertz said. "We're just a tight-knit team. I think that really contributes to most of our success. The whole school year we hang out and when soccer season rolls around we end up hanging out on the soccer field."
Capital (12-3-3) earned the district's No. 2 spot. Glacier Peak (15-4-0) won the 3A Wesco this season before losing to conference rival Edmonds-Woodway, 2-0, in the District 1 championship.
The Cougars are coming off a 4-0 loss to Auburn Mountainview in their district finals. It was the team's first defeat since March 25 when they dropped a league match to North Thurston, 5-0.
"We were kind of at our lowest point as far as our level of play because we were missing people due to injury and sickness," Lopez said about his team's play against the Rams two months ago. "We were struggling to get guys on the field. It was tough, but ever since then the guys knew they were a lot better than that. They just stepped up and didn't everything they needed to do to set the ship right again."
What followed after the loss was a 13-game unbeaten streak which saw the Cougars go 10-0-3 during the stretch.
"I think that's the biggest loss I've played in at Capital," Reimertz said. "It was interesting. It kind of gave us a reality check. We came into the year pretty confident. We lost a lot of seniors from last year, but we came in confident with our abilities, but that game grounded us."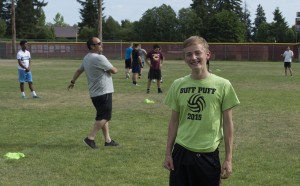 It was after their loss to North Thurston that the team started to take shape, resulting in their current postseason run. The highlight so far this year was going into Central Kitsap and posting a 1-0 triumph on April 29.
"That was a huge win for us. That was the big question. Can we go away from home and play a team that has been historically strong against us and get a result?" Lopez said. "It was really a test for us and we knew we needed to step up and get a result we could be proud of. That's where it all started for us."
This marks the second time in Lopez's three seasons the Cougars have made a state playoff appearance. The last time he guided Capital to state, two years ago, the Cougars finished second, losing to Squalicum in the 2A championship match.
"A lot of these guys have been there and remember it. They bring that experience," Lopez said. "To have that and to use that as a focal point to set themselves for what they want to do this year is a big advantage for this team."
While the Cougars can draw on that valuable experience of playing for a state championship, the blueprint for success used two years ago is not the same for this year's squad as the team has its own identity and forged its own trail this season.
"It's an inspiration," senior Ian VanDusen said about the Cougars run towards the title match two years ago, "but we are definitely a different team."
Different in regards to playing styles – this year's team plays more of a possession-based game – and personnel.
"We mostly needed to get healthy (to become successful), but we had to do some fine-tuning too, just getting kids in the right places, figuring out what our best formation was, where kids could flourish and perform at their best," Lopez said. "We all looked at it in the context of the big picture and all the guys were willing to do whatever they needed to do for this program to be successful."
This year's Cougars team has an interesting make-up consisting of veterans in Reimertz, Alan Ryan, Nigel El-Sokkary and Scott Penner pairing up with new varsity players in VanDusen, Cole Morrill and Coby Cowan. It's proven to be a winning combination with everyone willing to assume a role for the betterment of the team.
"I am just really looking forward to going to state, especially since it's my senior year," Reimertz said. 'It's going to be a pretty crazy atmosphere. I've talked to a lot of my friends who aren't on the soccer team and they're all planning on being there."