Typically, it's a growing up process when a kid transitions from youth soccer to junior varsity to varsity, learning as you go. Not so with Ian MacLean, a two-time, all-league midfielder for North Thurston High School's soccer team.
When Matt Herrera first watched MacLean play soccer as a freshman, the Rams varsity soccer coach could see that "it" factor.
"I was watching him play and I realized this kid needs to be on varsity," said Herrera, the Rams' head soccer coach for four years.
Two games into MacLean's freshman year, he moved up to the varsity team. He didn't start, but he got a lot of playing time. It was his decision making, his knowledge of the game and his athleticism that impressed Herrera. And there was also his maturity factor.
"A lot of times you get a freshman and they panic with the ball because high school is a little faster, a little more physical than what they're used to," Herrera said. "But Ian seemed to fit in right away. He never seemed to panic. I thought it was best to bring him up and let him get experience at a higher level."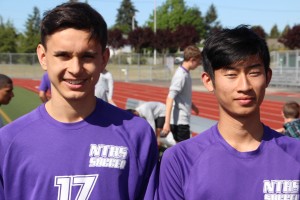 Like MacLean, Tommy Johnson was another quick learner. Johnson, now a junior, has started since his freshman year, playing right or left wing.
"He's a dramatic player," Herrera said about Johnson. "He's got that X factor. He can change a game in a moment. He's a great little player – fast, athletic, great individual skill sets dribbling with the ball, good finisher, good passer."
Often, when kids excel in sports, their classroom habits can falter. But MacLean and Johnson are two all-league players who are the true definition of student-athlete. MacLean has a 3.5 cumulative GPA and is headed to Greenville College, a Division III school in Illinois, on an academic scholarship. Johnson has a 3.99 GPA. His only "blemish" is an A-minus he got last year in advanced English. The last time he got a B on his report card was in a music theory class in middle school.
"It's all about time management," Johnson said. "You just make time to do your homework."
Johnson is especially the master of juggling his time during the fall when he turns out for cross country on the high school team and for soccer on a club team twice a week.
"There are days when there's no time for relaxation," Johnson said. "You go home and do your homework, study."
Sometimes studying can't wait and he'll read on the bus coming home from a match. Or, he'll study while grabbing dinner with the team.
"Right now I have lots of homework in French class," Johnson said. "A lot of times, I've been in McDonalds and reading my French book doing homework. And calculus too. I have a lot of work to do in that, especially during AP tests."
MacLean is all in with soccer, playing year around. But he leaves time to volunteer for the Explorers, a youth program with the Olympia police department. He helps with parking and security at events like Lakefair and meetings at the governor's house. Career wise, MacLean, who plans on majoring in criminal justice, wants to be in a police force and eventually work with the FBI.
On the soccer field, MacLean has been good at stopping the "bad guys," the opponent. But as good as MacLean is at stopping an opponent, stealing a pass and pushing the ball up field, there was one opponent he couldn't overcome his sophomore year. He came down with anemia and was low on iron, limiting him to just four games that season. Since then, he's been full speed ahead with no problems.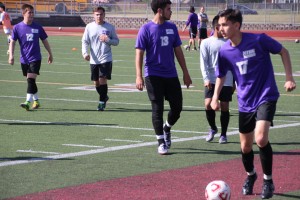 In his decision on what college to attend, MacLean, who was recruited by Saint Martin's University and The Evergreen State College, had one major criteria. The suitor had to be outside of Washington.
"I didn't want to stay in state," he said. "I like traveling."
That's because he's been a traveler much of his life, including a three year stay in Sweden when his mom worked as a teacher. "My whole family moved there," MacLean said.
While Johnson loves the challenge of soccer, he figures his playing days will end when his high school career ends.
"I am pretty much going toward academics," Johnson said. "I would rather go to a real good college based on academics than play soccer."
Academics and a career win out in Johnson's book. It's a decision with a bright future.