Recently, I had a chance to speak with Marilyn Roberts, President of NAMI (with a long "a") Thurston-Mason, about the intricacies of NAMI's approach to recovery from mental illness, and about the stigma that surrounds those living with mental illness. Roberts, who is also the Spiritual Care Coordinator at Providence St. Peter Hospital, has been one of the region's most powerful advocates for mental healthcare for years.
May is Mental Health Awareness Month and NAMI Thurston-Mason, our local National Alliance on Mental Illness chapter, is presenting a number of events over the next several weeks to raise awareness about mental health in our community.
Marilyn Roberts, and NAMI at large, is working to change the public perception of mental illness and build a network through which the mentally ill and their families can begin to recover. This is a monumental undertaking, though, and can seem like one without a clear starting point, so we dove right in.
With a little reflection, all of us can probably bring to mind a simple sense of the stigma—negative associations—that those afflicted with mental illness might endure. Finding or keeping a job might be trying, for example, if your employer lacks a fundamental understanding of the nature of your illness. Your personal relationships might begin to collapse if you're having trouble managing medication. "However, the effects of stigma are much more insidious and far-reaching than this basic picture indicates," Roberts said.
"Social pressure increases, as does day-to-day stress," she said. "The effects of stigmatized mental illness stack up on each other. The end result, though, is that people turn on themselves. They begin to see their mental illness as something to be ashamed of, and that shame can come to define the way they see themselves."
"NAMI offers a road to recovery, an alternative. Recovery is the biggest part of what we do," Roberts said. When I asked what that process of recovery might look like, Roberts brightened. "It looks like people talking to people. People with lived experience, articulating a message of hope."
This mission is realized publicly through programs like In Our Own Voice, in which presenters who are living in recovery from mental illness deliver personal stories and messages to the public. With these presentations comes a much more interpersonal kind of understanding that begins to chip away at the stigma that is such an impediment to recovery, both personally and in society at large.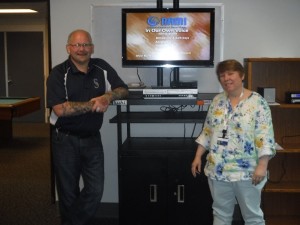 The national organization was founded in the 1970s, and NAMI Thurston-Mason has been around since 1985. Because it's such a grassroots-focused organization, its visibility can be low, and that's part of what Roberts is trying to change. You might not notice NAMI until you need it, and in point of fact, most people find their way to the organization through the personal crisis of a loved one. Roberts is no different, and came to NAMI in 2004 through the Family-to-Family program. I asked how many staffers and volunteers had come to work for NAMI after an experience similar to hers.
"Pretty much everyone," she said. "We all know just what it's like."
This route to the organization clarifies a lot about how the grassroots aspects of NAMI works. Even on a national level, NAMI exists to help people find other people, and to bust the stigma that surrounds mental illness. That basic goal is amplified when you get down to the community level, where Peer to Peer counseling is another large part of what NAMI facilitates. Most pointedly, this is a means of support that is separate from institutional care and from the medical profession.
"We aren't talking about psychiatric help, here," said Roberts. "This is one person talking to another, without any institutional pressure."
Through Peer to Peer counseling, individuals who are in recovery can help others in situations they themselves have lived through, or talk through crises and offer a little bit of much-needed stability and support. This structure is certainly not limited to those living with mental illness, though; much of the Peer to Peer work that NAMI makes possible has to do with those whose family members or loved ones might be living with mental illness, with programs like Family-to-Family. Caregivers can be the only people who stand between the mentally ill and homelessness or jail.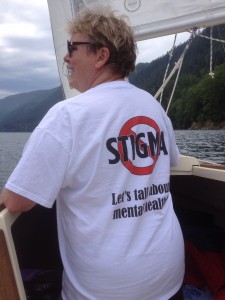 We also talked about the Stigmafree campaign, which is a national effort to promote a pledge that all are encouraged to take. While the language of the pledge is simple, its significance can't be overstated. Legislators, public policy makers, healthcare providers, and a large number of individuals from all walks of life have joined in pledging to do three things: first, to learn about mental health issues; second, to see the person, not the illness; and third, to take action.
The "taking action" part of the Stigmafree pledge doesn't necessarily have to be a massive endeavor, though Roberts certainly works that way. More recently, she has been working on the proposed Community Care Center planned for Olympia's downtown. NAMI's local office would be there, as well as presentation space and counseling space, but most importantly, the Community Care Center would consolidate resources so that people who need them could start to take control of their lives.
"Right now, people might have to go to Lacey to get one form, fill it out, catch a bus back to the transit center, go out to DSHS in Tumwater, get another form… It would be almost overwhelming for someone in good health who has a car," Roberts said. "It's just too much if you're on foot, and having a hard time as well."
We spoke on a Sunday, after a daylong Health and Wellness Fair in Lacey, and Marilyn had three more appointments after mine. Even after more than a decade, it was clear that she gives everything to what she does, and she's tireless, so that those with mental illness don't have to be.