What do you think of when you think of craft beer in the Pacific Northwest? Over the years, Seattle and Portland have established themselves as some of the region's most sudsy cities, but with more than 30 craft breweries spanning from downtown Olympia to the Tacoma waterfront, the South Sound serves as its own microbrew mecca. From citrusy IPAs and creamy porters, to earthy saisons, crisp lagers and more, there's no lack of suds in the South Sound, and there's no better way to experience the beers this region boasts than by brewery hopping your way through the South Sound Craft Crawl.
The South Sound Craft Crawl highlights the great breweries of the region with a 15 brewery tour from Olympia to Tacoma. The Craft Crawl passport features a map and information about all of the breweries included on the crawl. And just like a real passport, you get a stamp for every brewery you visit. After collecting nine stamps, South Sound Craft Crawlers earn a commemorative pint glass, available at any one of the breweries on the route.
I recently headed out on the crawl with a few friends to enjoy some pints and great food — here's a behind the scenes look of what to expect while sipping brews in the South Sound. We start in Olympia and gradually head north.
Three Magnets Brewing
Olympia's newest downtown brewery, Three Magnets Brewing, is our first stop. Housed in a renovated building in Olympia's downtown core, Three Magnets Brewing is known for it's crisp ales on tap and it's all-ages dining section. My favorite brew is the Belgian Copper Ale. The sammich menu includes creative combinations like Kahlua pig grinder and oyster po boy to fill your belly. Sports fans won't miss a minute of a Sounders or Seahawks game.
Fish Tale Brew Pub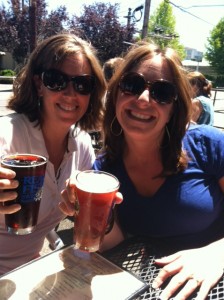 Next, we head down the street to the well-known, Olympia favorite Fish Tale Brew Pub. Olympia's oldest brewpub, Fish Tale brews a variety of award-winning certified organic beer. The folks at Fish Tale are also the ones behind Spire Mountain Cider, so if you're sick of beer (apparently that's a thing), the selection of ciders at Fish Tale offers a nice change of pace.
Narrows Brewing
Next, we drove north and our next stop was Narrows Brewing, located in the historic Mill Warehouse at Narrows Marina. It's hard to say if the best thing about Narrows Brewing is the beer or the scenery. They serve up some mighty tasty brews, but they also boast some stellar views. Overlooking Puget Sound and the Tacoma Narrows Bridges, Narrows Brewing's taproom is spacious and comfortable, with deck seating, gorgeous views and even free boat docking for guests. Hungry? You can order from the neighboring Boathouse 19 (try the seven-layer dip) and they'll deliver to your table. Narrows Brewing also regularly hosts local food trucks on-site.
During our visit, my friends and I lingered over a generous beer flight and a couple of pints. Try the well-balanced Ring of Fire IPA or, for the slightly adventurous, the Narrows ApriSour Ale.
Harmon Brewing and Eatery (and the Harmon Tap Room)
We finished out the night at the original Harmon Brewing and Eatery in downtown Tacoma. (You can also try the Harmon's tasty brews and get your passport stamped at the Harmon Tap Room, located just 2 miles north of the flagship brewery and restaurant.) We headed to their restaurant location because we were thirsty for more beer, but also because we were hungry. The beer battered garlic fries were perfect, and those with a hearty appetite should not miss the Harmongous Burger, with its ¾-pound patty, bacon, cheddar and Swiss cheeses. We paired our food with the Expedition Amber Ale. And for dessert? Crème brûlée and the Puget Sound Porter. They probably have salads too.
We're not as young as we used to be, so we call it a night after three breweries. Luckily, you don't have to get all nine stamps in one night. It was a lovely evening and I am looking forward to rounding out my craft crawl passport and exploring more of the South Sound Craft Crawl.
Here are some of the breweries that are next on my list:
Top Rung Brewing
Lacey's only locally-owned brewery, Top Rung Brewing was founded by two local firefighters in 2014 and offers a tasting room where you can try their six flagship beers or sip a seasonal brew while enjoying food from the South Bay BBQ food truck, or you can bring your own grub.
7 Seas Brewing
Located a hop, skip and jump away across the Narrows Bridge in Gig Harbor, 7 Seas Brewing offers guests a wide assortment of beers to enjoy in its stunning taproom. Sample what's on tap with a flight or enjoy a pint of your favorite brew. Don't feel like crossing the bridge but still want to sip on one 7 Seas' renowned beers? The brewery is opening a second location in Tacoma in the coming months.
Whether you're an out-of-town visitor making a weekend of it or a local trying new pints after work, there's no wrong way to experience the South Sound Craft Crawl. Your only mistake would be missing out on the burgeoning South Sound craft beer scene.
For more information and a list of all of the breweries included on the crawl, visit the South Sound Craft Crawl website. You can print your passport or pick one up at Olympia-Lacey-Tumwater Visitor and Convention Bureau or at Travel Tacoma + Pierce County Visitor Information Center. Cheers, and enjoy your crawl!
Sponsored