When Martin McElliott accepted the Ambassador Choice Business of the Month certificate, he was pleasantly surprised. In fact, he circulated the picture via text messaging to our team.
Chamber Ambassadors select a business who excels in one or more of the following categories:
Work Place Excellence
Think Chamber First
Community Service
Military Support
Green Business
"ThurstonTalk was selected by our Ambassadors because of their active involvement, not only in the Chamber, but in the community," said Sierra Burton, Executive Director of the Lacey South Sound Chamber.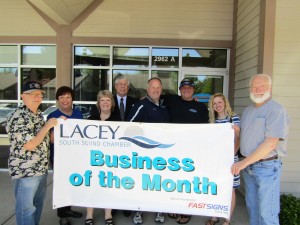 McElliott, one of the original founders and co-owner of ThurstonTalk, said that joining the Chamber was an integral part of how the business was built. "We have made some great business connections and also have become friends with many Chamber members that will last a lifetime," he said.
"Joining local chambers has been an amazing way for us to connect with the local business community," said co-founder Dan Jones. "All said, we belong to eight chambers in Western Washington."
The Lacey South Sound Chamber presented ThurstonTalk with a banner on Friday, May 6, 2016.
"I always see ThurstonTalk team members working hard to help make this community and surrounding communities a more positive place. ThurstonTalk is deserving of this great award," summarized Burton.
ThurstonTalk is a digital media company sharing positive stories about people, places and businesses in Thurston County. ThurstonTalk offers content marketing and online options across our Community Social Network to advertise in Olympia, Lacey, Tumwater, and beyond.  Advertise with ThurstonTalk to reach your target market, grow your brand, and measure results.