In the world of food banks, there's no lack of zucchini. Often by the time it reaches its destination the ubiquitous squash is the size of a small club, and about the same texture. "We get a fair amount of produce and we appreciate every donation, but it's often the same things," says Thurston County Food Bank Executive Director Robert James Coit. "Our long term partnership with the Kiwanis Food Bank Garden means we can request that they grow broccoli, bok choy, or cabbage to complement the food that we get donated. It adds variety."
The Kiwanis Club of Olympia maintains three large gardens to supply the food bank. Throughout the year, 15 regular volunteers work with local community groups to plant, tend, and harvest up to 30,000 pounds of produce. On Saturday, April 30, over 80 volunteers descended on the Kiwanis main garden as part of Comcast Cares Day, a nationwide effort to give back to the communities where the telecommunications company operates. On Sunday, an additional 50 volunteered at the food bank.
This is the 15th year that Comcast has held the volunteer day, which is optional for employees. It's so popular that many bring their entire families. Regional Senior Vice President Kyle McSlarrow began participating five years before he even worked for the company. "I've done homeless shelters and food banks, weeding in parks and painting in school buildings," he says. "Among the staff, it is without a doubt the number one favorite day."
At the garden, teams installed wire for the 4,000 pounds of pole beans that the garden gives away each year, repaired a hoop house, and worked on fencing projects. "It's really valuable to have volunteers preparing the garden," says Kiwanis Lt. Governor Derek Valley. "Getting it ready for summer growing season is really important."
The group also split, cut, and moved six cords of firewood that will be given away to families in need this fall. "Each year we deliver 60 to 70 cords that go to about 100 families," says Valley. "Some families only want half a cord so we can spread it out to more folks."
At the food bank, volunteers helped to create sustainable landscaping, pulling out shrubs and bushes with heavy water needs and planting drought resistant varieties instead.
Veronica Lampe-Martin's father works for Comcast, and this is her fifth year volunteering. "My whole family comes every time," she says. "It's a lot of fun giving back to the community, and it also makes me aware of other places around here. I had no idea about the Kiwanis Food Bank Garden. Now I know that it's here."
Most years local Comcast offices choose their own projects after consulting with employees or hearing about an organization that could use help. The planning process begins early, and by January, they've identified a non-profit organization to support. This year was different. When two potential projects fell through, the company turned to United Way of Thurston County to help find a good match.
"Comcast is one of our great partners," says United Way Development Manager Mike Leonard. "They run one of our top 15 workplace campaigns that allow employees to reinvest in the community. When they approached us, we knew they were going to need to find a project with enough capacity to handle the number of volunteers they have. Making it a two day project added to the challenge."
Leonard contacted the food bank, but the organization couldn't handle the sheer volume of volunteers by itself. "The Kiwanis are one of our strongest long-term collaborative partners," says Coit. "We've been working with them for almost 18 years. We wanted to share the benefit."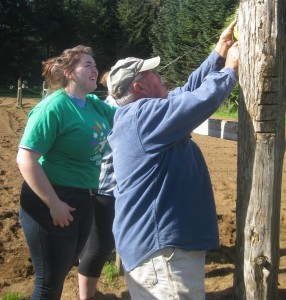 Aside from adding variety to the food that is donated, Coit says the Food Bank Garden creates other benefits. "So much of the product that we get is near the end of its natural shelf life," he says. "Getting fresh produce means that I have weeks before I have to give it out versus days. It gives me flexibility."
Further, he says, the garden has a social justice component. "It's about dignity. The produce is grown by people who really care about it, and the recipients get fresh local vegetables versus something the store didn't want."
McSlarrow believes that Comcast Cares plays an important role in helping employees stay connected to the communities they live in. "It reminds us that culturally, we're very local," he says. "We don't feel big."
For Comcast employee John Berg, the satisfaction lies in making a difference. "It never ceases to amaze me when you do something like this, the bodies that show up and the amount of stuff you can get done in just a few short hours," he says. "To me that's the biggest part, just seeing the impact a few people can make."
To learn more about Comcast Cares Day and the variety of projects across Washington, click here.
Sponsored