Submitted by Westport Winery Garden Resort
Westport Winery Garden Resort earned a gold medal on their sparkling Gewurztraminer wine called Going Coastal at the 16thAnnual Finger Lakes Wine Competition held in Rochester, New York on March 18-20. This is one of the largest competitions in the nation with over 3800 wines entered representing over 900 wineries.
Going Coastal is crafted exclusively with Gewurztraminer grapes grown at Red Willow Vineyard located in the Yakima Valley AVA. The collaboration between the Roberts family at Westport Winery and the Sauer family at Red Willow is one that has resulted in numerous awards in recent years. The vines for these grapes were planted over 35 years ago.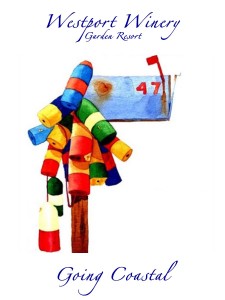 A portion of the proceeds from this wine benefits the Coastal Interpretive Center in Ocean Shores, Washington. Each of Westport's wines, in addition to benefiting a local charitable organization, has a sculpture commemorating it in their 15-acre display garden. In this case the sculpture reflects the original watercolor painting for the label by Krister Lile. Inside the relic mail box guests discover the tools needed to add their wishes to the winery's Wave of Hope prayer fence.
Many of Westport's popular creations were honored at this event. Bordello Blonde, Duckleberry Grunt, Shiver Me Timbers, Captain Gray, Smoky Nor'wester, Rapture of the Deep, Ancient Mariner and True Blue all earned silver medals, while Peaches on the Beaches earned a bronze.
Westport Winery Garden Resort is located on the corner of Highway 105 and South Arbor Road halfway between Aberdeen and Westport. The winery (including the restaurant, bakery, nursery and gardens) is open daily and offers lunch and dinner from 11 a.m. to 7 p.m.