While sitting in my car at a traffic light in downtown Olympia, I notice a beautiful display of color on the metal grey box near the intersection. Is it graffiti? Did someone do this on purpose? To solve the mystery of the artwork on the traffic boxes I seek out Stephanie Johnson with the City of Olympia's Arts Commission.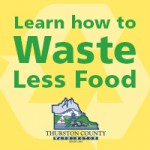 Johnson says that the painted boxes are are part of a citywide plan. She first noticed a similar art project while on the East Coast about ten years ago. In that project, the boxes were painted, which just didn't seem like the right fit for Olympia. She then discovered another example in Boise, Idaho, but this time the boxes are wrapped with artwork on vinyl. "That made a whole lot more sense because you didn't have to be a painter to participate," she says. And that's all it took to get the ball rolling.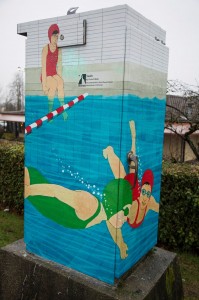 The City of Olympia accepted two dimensional artwork submissions for consideration. Voting then took place on Facebook and in person at the Senior Center building. In all Johnson says they received more than 100 submissions and 26,000 likes on Facebook for the pieces. "It was a very democratic and respectful process. It was great to see all the artists voting for each other," she says with a grin.
Twenty different pieces of art were selected and evenly displayed between downtown and the west side.
Artist Doyle Fanning explains why she participated. "For me this is a way to dress up the streets and bring energy and life to something as ordinary and mundane as a utility box. Who even notices them? But dressed up in art they pop out and bring smiles and wonder to people walking, biking or driving by."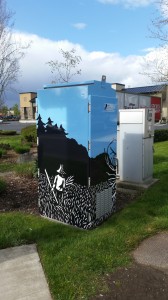 "I wanted my box to remind us of the warmth and beauty of summer skies and flowers during the darker, rainy days of winter," adds Fanning.
"To realize that my work was selected to better enhance a downtown area here in Olympia is extremely satisfying," says artist Robert Hunter. "This accomplishment had led me to embark on other public art projects, both here and in other regions of Puget Sound."
"Any opportunity to see my work in public places close to home makes me feel more connected to this community," fellow artist Jennifer Kuhns adds.
The artists' works were transferred to the vinyl wrap material, which has a life of about two or three years. Johnson says she sees the project as ongoing when the vinyl needs replacing. So far the only obstacle has been a delay in wrapping the boxes during the rainy winter weather.
The downtown Olympia boxes are different are three-sided, with the fourth side hosting a walking map of the downtown area. "For this big leap of faith, it's actually turned out pretty well. People really love it," says Johnson. The project has been so popular that the next phase will begin soon – accepting submissions for art on boxes in East Olympia.
Whether you are an artist yourself, a resident of the area, or just passing through, these traffic boxes give you something to look at rather than just a boring red light.
Artist Nikki McClure says it best, "It is an image that transports those stuck at that intersection. Their minds wander to another place where we gather bundles of firewood and walk home with our kids leading the way. All the people in their cars are doing the same thing, wending their way home with provisions. But, it is nice to remember that it could be simpler. We could take a walk, with our families…maybe today someone will do that."