After four years, Alyssa Bryan had grown tired of playing golf. It was time to take a brief hiatus.
"It was fun, but it was something, at the time, I just didn't think I wanted to do anymore," said a smiling Bryan. "When you're 11, you really don't know what you want."

The break was relatively short, lasting through both her middle school years and the first part of her freshman year at North Thurston High School. By the time the spring sports season started, however, she decided to pick up the clubs once again and return to the links.
There was only one thing standing in her way.
"How do I hold a club again? How do I swing a club?" asked Bryan, who started playing at the age of 8. "I totally had to re-learn everything."
A quick study, it's safe to say that Bryan, who enters her final season at North Thurston High school, has successfully relocated her game. She is one of the area's top golfers.
"She's always working hard at it. She's a state-caliber golfer. She proved that last year," North Thurston coach Tim Brown said. "She had a great run at the end of the year. She's already better this year."
Coming off an appearance in the Class 3A state championship tournament in 2015, Bryan is not just looking out for herself this season. She also serves as captain for the Rams' squad – one of the many titles she currently holds.
"What a well-rounded young lady," Brown said. "Fantastic person, good student, good golfer, choir, orchestra – I don't know how she finds all the time to do it."
It's a juggling act for sure for the gifted Bryan, who has taken on a newer, significantly larger role with the Rams this season.
"She's our mother hen this year, to go along with all the other things she does. She's taking care of the younger kids," Brown said. "It's huge to have an older girl that the younger kids not only look up to, but she's someone they like and respect. She's a great role model. She takes care of them to boot. She gets them here, she takes them home if they need rides. That's unbelievably important in this sport."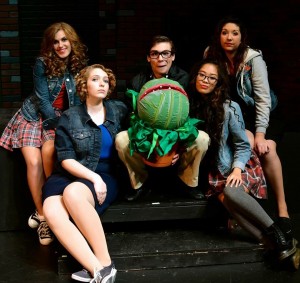 While she excels at golf, it's actually secondary to here top interest – drama.
"The performing arts are definitely my passion. That's what I discovered at Aspire Middle School," Bryan said. "I went there for Challenge Academy mainly so I wasn't into drama before, but in sixth grade I did my first musical, 'Fiddler on the Roof,' and I was hooked."
As her time on the stage began to increase – she lists "Little Shop of Horrors" as her favorite production – so did her desire to dust off the clubs.
"I joined golf in ninth grade. My brother was already on the team and my parents really encouraged me to do a sport in high school," Bryan said. "I wanted to do one so I had something under my belt. I knew it would look good as an extra-curricular activity. I thought, 'Well, I know how to play golf and I enjoy playing golf.' So, I just got back into it and got serious about it."
Despite the layoff and the pressing need for a refresher course, she immediately found success, advancing to districts during her freshman and sophomore years, the latter where she finished one stroke off securing a trip to state.
The next year she took things a step further, making it directly to state from leagues as she finished fifth in the competitive 3A Narrows League tournament.
"One of my favorite memories of that golf season was walking in and seeing I was fifth on the score board," Bryan said. "It was such a waiting game. Luckily, I was one of the last groups to play, so it wasn't too long, but I was super excited."
She wasn't alone at last year's state tournament at Horn Rapids Golf Course in Richland. She was joined by last year's team captain Audrey Marlatt, who was the 2015 league champion and a four-time state participant, placing 14th overall in her final season, before graduating.
"Alyssa and Audrey were such great friends. They were always that 1-2 punch for us," Brown said. "She learned a lot from Audrey and not only has she learned, she's improved on it."
And it wasn't just about golf swings and putting. It was through Marlatt's actions that helped Bryan discover what type of leader she would be for this season's squad.
"It was really cool to have her as an example. Audrey just knew what she was doing and was really good at it," Bryan said. "I kind of used her as an inspiration for how I should act, especially this year as a senior and being the captain. She really showed me how to lead a team."
The main individual goal this season will be to not only make state for a second consecutive year, but to advance to the second day of the tournament.
Her college plans remain undecided, but feature plenty of options.
"Unfortunately, all the schools I've been accepted to don't offer golf programs, but I'm looking at either Seattle Pacific or Chapman University," Bryan said. "What I want to study depends a lot on where I go. If I go to Seattle Pacific, I will study music therapy. If I go to Chapman, I will go into business. They are two completely different things, but its two areas that really interest me."
And her future in golf after high school? Will there be any more breaks?
"It's a sport you can play your entire life," Bryan said. "I can see myself doing that."