The Washington Schoolgirls Lacrosse Association (WSLA) welcomed Keith Edgerton with open arms when he expressed interest in forming a team in Thurston County.
The WSLA is a five-division league featuring varsity programs from 33 high schools from around the state. One of the areas, however, it did not have a presence in Olympia. So, when Edgerton got the ball rolling, the league did all it could to help him establish a squad locally.
"They want this league to grow," Edgerton said. "They had me come to these mandatory meetings and told me I just needed to get 12 girls out. If I got 12 out that would be enough to field a team. When it was time to play, they said they would let other teams know and we could borrow some players."
It became clear early on that Olympia would not need assistance from anyone during its inaugural season as the squad features 26 players on its roster.
"I think there is a newness to it," said Edgerton, "but one thing I really sold the players on was that they are the first girls in Thurston County to play this sport and in 25 years when lacrosse is in every school they are going to look back and say they were on the first team."
The team, which is comprised of players from virtually every local high school, will play a 12-game JV schedule this season with the first of five home games at the Regional Athletic Complex (RAC) in Lacey taking place on March 24 against South Kitsap.
"We had that really heavy rain last Wednesday," said Edgerton, who works at Providence St. Peter's Hospital as a sustainability coordinator. "I have never been in rain like that in my whole life, and I had 22 of 26 girls show up."
"I've been coaching for about six years," continued Edgerton. "This is the first team that I've had that brings it every practice. They make coaching so much a joy. I am just blown away by their great attitude and how enthusiastic they are." 
Much of the initial enthusiasm for the sport was sparked by Olympia senior Deena Ingley and Pope John Paul II sophomore Sophia Cash – two of the first players to sign up for the team who were quickly turned into recruiters.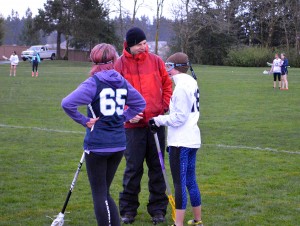 Ingley, one of only two players on the squad with prior lacrosse experience, began playing in eighth grade and had played three years in California before moving to Olympia.
While she had arrived in Thurston County, the sport of lacrosse had not.
"When I moved here my junior year there was no lacrosse. Everything seemed to be an hour away," Ingley said about her initial attempt to join a team. "I think it was in October or November I saw a big banner up in downtown Olympia advertising boys and girls high school lacrosse and I remember going home and talking about it for 30 minutes straight. I emailed Keith and told him I could get girls. And from that moment on I was annoying to all my classmates, asking what they were doing in spring."
Many elected to follow Ingley's lead and play lacrosse.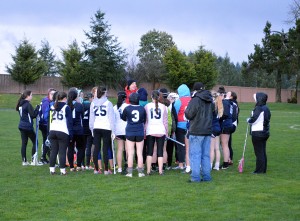 "We thought we would maybe have 15 girls max, but it jumped from 15 to 20 and just kept growing," Ingley said. "We have two full teams. All these girls, they came and were ready to learn and have been improving so quickly over the last three weeks. When you first watch lacrosse you are confused, but you're still fascinated by it. When it works out, it's so satisfying."
Like a large majority of the players, Cash had played other sports, like soccer and cross country, for a number of years, but had never picked up a lacrosse stick.
"I had never seen anything like it. I knew it was out there on the East Coast. A couple of my cousins played, but I had never seen it before," Cash said. "It clicked pretty fast. I think it helps if you have been a prior athlete. It's just exciting that so many girls were interested in playing."
The team practices three times a week. The regular season runs through May 4 with the state championship game taking place on May 20.
"I really expected some of the newness to wear off and we just haven't had it. I thought attendance would drop. It hasn't dropped at all. I can't say enough good things about this team," Edgerton said.
"They were excited about this and saw a uniqueness about the game when they signed up. And once they get out there there's this feeling, 'OK, this looks really hard. How am I going to do this?' I really cautioned them to be patient with themselves. I promised them it would just happen. This team surprised the heck out of me. They were cradling, throwing and catching like they had been playing for a couple of months. I think after that first week they let the fear go. These girls are absolutely devouring it."
According to Edgerton, the program will field both a varsity and JV team next season. He also plans to hold a handful of clinics during the summer. For more information, including the team's schedule, visit OlympiaLacrosse.org.