Submitted by TULIP Cooperative Credit Union
A community's heart can be found where people gather: farmer's markets, co-ops, parks, libraries, coffee shops, and credit unions. That's right, credit unions. The TULIP Cooperative Credit Union may be the best example of community gathering in our region. For the last 15 years TULIP has brought together low-income and more affluent community members to provide a unique financial service in Thurston County.
In 1997, the Olympia Food Co-op realized there was an unmet need for low-income individuals in the South Sound: banking. "Fringe" banks, including payday lenders and pawn shops, were the only financial option for the poorest members of our community. While these lenders don't require credit scores and provide convenient financial support, they also prey on the desperation of their clients. High interest rates, exorbitant fees, and rigid deadlines force clients into debt cycles. Furthermore, reliance on check-cashing services, rather than banks or credit unions, limits the opportunity for savings and asset-building, widening the gap between the wealthy and the poor.
"It's very expensive to be poor," Eric Bowman, the Board Treasurer at TULIP explains. "A lot of people, like fringe financial services, try to capitalize off of low-income people." The Olympia Food Co-op recognized this disturbing trend and worked to create a cooperative credit union to champion low-income individuals. By 2001 they obtained a charter, committed a staff member to the project, and TULIP was born.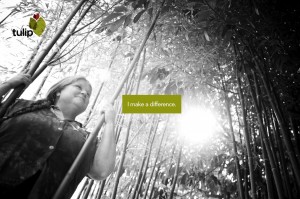 TULIP, which stands for Thurston Union of Low Income People, is a cooperative credit union, meaning all people who open accounts or take out loans at TULIP are members. Members have a direct say in the leadership of the credit union and their deposits make loans available for fellow members. While TULIP primarily caters to low-income individuals anyone, no matter their financial status, can become a member.
When someone opens an account at TULIP they receive their member number. "People really identify with their member numbers here," says Johna LaRue, Operations Manager for TULIP, who has worked for the credit union since 2005. "Because we're so small it's definitely a spot of pride."
TULIP operated out of a closet at the eastside Olympia Food Co-op for the last 14 years, a testament to their local roots and modest size. LaRue says that TULIP's size and unique charter allow them to approach loans differently than other credit unions.
"For us, every person's situation is different. We don't have a rubber stamp of approval for loan applications like bigger institutions. Our staff and board hand-process all the loan applications we receive, so we can be more flexible. For example, we can lend to someone with a 700 dollar a month income. Other credit unions can't do that—we help the people they can't."
Because TULIP fills a special niche in the community, they have developed close relationships with the other local credit unions. WSECU currently houses TULIP in its downtown Olympia location, giving the cooperative some administrative assistance, a break in rent, and even free parking ("which their employees even have to pay for!" LaRue says with a smile).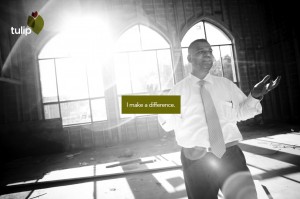 The credit union's impact on the community has been profound. Member testimonials, such as those from Tanya, Pila, and Muhammad, explain how a simple business starter loan, car loan, or personal loan, can change a person's fortunes. Eric Bowman told me that this is the reason he joined TULIP. "I'll be honest, I don't have any kids. So, joining TULIP's board gave me a real opportunity to participate in a generative process—it gave me the opportunity to have an impact in the community that's greater than what I could have otherwise. It gave me the opportunity to be a part of something that will, hopefully, outlive me."
Bowman acknowledged that finance can be destructive, as in the case of predatory lenders, but it can also be creative. At TULIP, this creativity manifests itself in three ways. First, directly competing with fringe banks by offering financial services for low-income people means the creation of wealth. Secondly, thanks to the organization's size and charter, TULIP's administrative creativity provides loans to people who otherwise wouldn't qualify. Finally, and perhaps most importantly, TULIP is creative in the broader sense of the word: it is building a better community for local, low-income people.
If you would like to join the community at TULIP, please visit their website, or stop by their new downtown location in Olympia at 330 Union Avenue, Suite 101.