Addiction is never an easy issue. It touches many lives and can damage or destroy health, families, and employment. But within Western Washington, Evergreen Treatment Services strives to "combine medication assisted treatment with wrap-around services such as counseling, mental health care, and case management services."
In a 2014 speech to Congress, Dr. Nora Volkow of the National Institutes of Health explained that "the abuse of and addiction to opioids such as heroin, morphine, and prescription pain relievers is a serious global problem that affects the health, social, and economic welfare of all societies. It is estimated that between 26.4 million and 36 million people abuse opioids worldwide, with an estimated 2.1 million people in the United States suffering from substance use disorders related to prescription opioid pain relievers in 2012 and an estimated 467,000 addicted to heroin. The consequences of this abuse have been devastating and are on the rise."
The American Society of Addiction Medicine's Opioid Addiction Disease 2015 statistics show that "24.6 million people 12 or older (9.4% of the population) live with substance dependence or abuse." Of this number, the federal Substance Abuse and Mental Health Services Administration ranks Washington State third in the nation.
But this epidemic is seeing amazing breakthroughs in treatment and growing numbers on the road to recovery. Evergreen Treatment Clinic Director Doug Stenchever explains that new developments in medically assisted, outpatient treatment provide new hope to struggling patients.
With a combination of often daily medications, mental health care, and social work, Evergreen Treatment Services (ETS) handles approximately 600 patients from their South Sound Clinic in Olympia. All contact is anonymous and handled discretely; there is no interaction with friends or family members.
Stenchever stresses that addiction, while often stigmatized, is treated by the medical field as a chronic disease no different than diabetes. He admits to watching the "opioid epidemic moving in this direction for the last 10 to 12 years." As such their offices which saw only 185 patients 10 years ago are "bulging at the seams now."
Though a private nonprofit organization, ETS contracts with the city as well as accepting Medicare and Apple Health. Before the Olympia offices opened, the state would pay to daily transport patients to clinics in Seattle and Vancouver, a large commitment of time and money. ETS also recently opened a branch in Hoquiam to ease the drive-times for Grays Harbor clients.
Recent medical advances are allowing for once a week visits instead of nearly every day. But even with these improvements, Stenchever and his team are outgrowing their current Martin Way location. This is where a long-time relationship with property manager Mike Steadman comes in handy.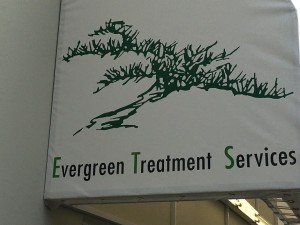 Says Stenchever, "Mike has been great to work with during our expansion; we're one of the biggest tenants he has now and he's not just our landlord, he's a personal friend." As ETS outgrew their original office space, Steadman arranged for them to take over additional vacant offices within the complex. Steadman even went so far as to facilitate the move of current tenants to other properties he owned so ETS could grow without having to relocate. ETS currently occupies 4 suites within the building and hopes to expand even further soon.
To learn more about Steadman Properties, visit their Facebook page.
Evergreen Treatment Services is located at 6700 Martin Way East in Olympia. For more information, call 360-413-6910.
Sponsored