"The life of the arts, far from being an interruption, a distraction, in the life of the nation, is close to the center of a nation's purpose – and is a test to the quality of a nation's civilization."  John F. Kennedy
When Ed and Jan Sandor considered where to retire, the location of their daughter and her family was just as important as the vibrancy of the arts community.
"As avid campers and hikers, we understood the attraction to living in the Pacific Northwest, but the wide spread support for the performing arts and beautiful structures like The Washington Center and Capitol Theater were a draw for us to move to Olympia," says Dr. Ed Sandor, who settled in Olympia in January 2015.

Sandor, who has often used the above quote by JFK in promoting the importance of arts education, says that he has spent a lifetime justifying budgets for the arts and arts education as well as striving for excellence in teaching. The Professor Emeritus of Trumpet at the University of Georgia has been pleased with the community and business support for performing arts in Olympia and hopes that it will continue to grow.
Once settled, Sandor began exploring the various musical ensembles in Olympia last spring. "I had already heard the Olympia Symphony Orchestra perform (what a top notch regional orchestra!) and wanted to hear what music education was like in Olympia," says Sandor.
In addition to visiting several public school music programs in the area, he attended a Student Orchestras of Greater Olympia (SOGO) rehearsal in March 2015 and introduced himself to Music Director, John Welsh, and Artistic Director, Greg Allison. "They told me to bring my instrument and come back to help coach kids," recalls Sandor with a smile.
Sandor quickly integrated himself into the organization, serving as both a board member and a volunteer who assists the in-place teaching artist on trumpet – Danielle Westbrook, a well-known performer in local clubs. "To see the kids' excitement and emotional involvement with music making is very inspiring for me, as it often is with adults who are accustomed to working at a high artistic level in music," he shares.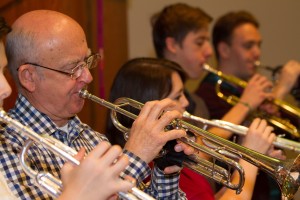 Sandor is an accomplished musician. Along with touring as a professional trumpet player, Sandor received two Fulbright Fellowships for performance, research and teaching in Taiwan, where he performed as Principal Trumpet of the National Symphony Orchestra. He has recorded three solo CDs through Musicians Showcase Recordings as well as being among the musicians on numerous commercially produced recordings.
"Ed is not only a consummate musician but literally brings a world of music and musical experiences to our organization," says Allison. "He is very committed to children and artistic music making at the highest level possible."
"What I'm doing is trying to stay relevant in the field of music education in my post-retirement years," says Sandor, who played with a professional brass quintet, several orchestras (most notably as an extra with the Atlanta Symphony Orchestra) and has performed extensively in Europe, Asia, and South America, in addition to the United States.
"I want to share what I have learned over the years with kids just as fine musicians and teachers shared their knowledge with me, when I was young," he continues. "The significant influences in my life as an early musician were people, all the way back to fourth grade, who gave up their free time to help kids who they felt had potential. I owe today's kids the same kind of attention that I received. It is a way of paying my mentors back for their invaluable gifts to me." 
Sandor explains that his passion for music education is somewhat self-serving. "I get fulfillment by trying to raise another generation of music enthusiasts and performers," explains Sandor noting that SOGO is not necessarily trying to train kids to be professional musicians but rather to understand and enjoy classical music.
"SOGO provides kids of similar interests and commitment to the arts a vehicle through which they can express their love of music and at the same time develop friendships with peers," explains Sandor. "As one associate explained it," he continues, "SOGO is to the school orchestra what elite club sports programs are to school athletics."
As a community volunteer/teaching artist, Sandor coaches and plays with members of the Debut, Academy and Conservatory orchestras and assists with the Brass Choir. "One of the values for students in SOGO is that you are playing with a more elite group of musicians, individuals that have a more-uniform level of commitment than is found in most public school programs." It is this commitment that keeps musicians, such as Sandor, engaged with the students.
In addition to coaching brass players, Sandor has assumed a position on SOGO's board to help drive the evolution of the organization. "Members of a committee I chair are looking at ways that SOGO might become more integral in the music education of even younger students," explains Sandor in relation to his role in advising the organization as a board member. "One of the exemplary aspects of the SOGO organization is its willingness to evolve, rather than simply maintain the status quo. In SOGO's commitment to the students, it continues to evaluate what it is doing well and what might be improved."
Sandor's experience with multiple professional orchestras and his lifelong involvement in music education are of great benefit to SOGO. "Ed is a very unassuming and kind man that has so very much to share, not only with our students but also with our faculty and board," adds Allison. "We are so very thankful to have him and his gracious expertise on our SOGO team."
Sandor encourages families considering auditioning for SOGO to visit a rehearsal. "When you see the light in the eyes of the kids, as they are involved in making music, that's as much as you need to know about the value that SOGO will bring to your own child," Sandor says in summary.
To learn more about SOGO, visit www.studentorchestras.org or attend an upcoming concert at The Washington Center for the Performing Arts.