Capital High School is well known when it comes to athletics. Many of the west Olympia school's athletics programs consistently make it to state competition and even to the championships. With great teams and coaches come great athletes. Meet the CHS senior athletes who have committed to play at the collegiate level next year.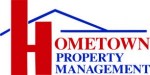 Eric Hagen
Eric Hagen has played golf since he was four but says he didn't become serious until he entered high school. During his freshman year, a friend of Hagen's told him he wasn't good enough to make varsity. "That really pissed me off and I practiced everyday that summer," he remembers. "I ended up playing on varsity that year. I just kind of fell in love with it."
It was baseball that attracted him as a kid and, until junior year, he thought it was the sport that would carry him through college. As his skills developed, Hagen began to realize he could actually pursue golf in college. "As I got better and better, it wasn't a worry if I would go Division I," he says, "but how big of a school I would go to."
The golfer ended up signing with The University of Denver and says he plans on majoring in accounting with a minor in real estate and construction management. This combination would be an ideal foundation for his desire to explore commercial real estate. He also dreams of playing on the PGA tour and says college golf is the next step.
Ally Rudd
Ally Rudd is a gymnast who has been tumbling since the age of two. Her mom thought a gymnastics class would be good for her little one and, as the old saying goes, mother knows best. Fifteen years later the high school senior is committed to Brown University and it was love at first sight.
"When looking at schools, academics were more important to me than gymnastics. I wanted to go to a school where I could get a great education, and if gymnastics fit into that, then great! And that's exactly what happened with Brown," explains Rudd.
Rudd has always been interested in college level gymnastics, but she was unsure how realistic her goal was. "Doing gymnastics in college always seemed like it would be an incredible experience and it was kind of a big goal that I wasn't sure I could accomplish," she explains. "I didn't really realize it was a realistic goal until last year, when I started talking to coaches."
With another offer from Cornell, Rudd faced a tough decision. After having an incredible official visit to the campus and loving the team dynamic, Rudd decided that Brown was her perfect match and is planning on majoring in biology or chemistry.
Maddy Lincoln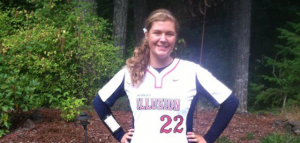 Maddy Lincoln is a softball player, but like many young girls, began her career with baseball. Two years after making the transition to softball, Lincoln knew that college ball was meant for her. "Ever since about fourth grade I've known I wanted to play college softball. From then on I just made it my primary goal to become good enough to play at that level," she shares.
After receiving a few offers, Lincoln's recruiting process came to a halt when she received one from Montana State University – Billings.
"Someone once told me, 'When you're visiting colleges, you should feel like Cinderella putting on the glass slipper – look for the perfect fit,'" recalls Lincoln. "When I went to Billings, I felt like I was in the perfect place for me and all the girls on the team were super awesome and welcoming. I fell in love with the town of Billings and felt right at home."
Lincoln plans on majoring in elementary education and special education.
Zach Smith
Zach Smith has been playing football for twelve years and will continue his career on the field at Southern Oregon University. "I chose Southern Oregon because the city of Ashland is breathtaking and they [have] a football team that fits my style of play and they have a great tradition of winning," he says.
Smith explains how he knows his time to play the sport he loves is limited and wants to make the best of it. "I chose to continue to play because you only get these few years of your life to play this game so you might as well give it all you've got."
The wide receiver has also had more than his fair share of injuries, leading him to a desire to major in exercise science. Smith says he wants to help people that have been through similar injuries as his and he is thrilled to get the opportunity to help people through his experiences.
Maddy Midstokke
Maddy Midstokke was introduced to soccer while living in Germany when she was young. She met many kids who were really into soccer and began to play, too. When she moved back to Washington in fourth grade, she recalls her dad bribing her to try out for the local club team, Black Hills Futbol Club, and it stuck.
After careful consideration, Midstokke felt college soccer was the next step. When looking for potential schools, she considered proximity to Olympia, a good team dynamic and solid academics. Northwest Nazarene University fit the bill.
Midstokke is a center attacking midfielder and says she can't imagine life without soccer. "If I wasn't playing I would just get bored and out of shape. I just can't imagine not playing soccer."
Unlike many of her peers, the high school senior loves school as well. "I just never want to leave!" she exclaims. She plans to continue this love affair by studying education at Northwest Nazarene.
Van Soderberg
Van Soderberg is something of a Thurston County legend. The Capital High School star punter graduated early to pursue his education – and football – and the University of Washington. Planning to major in aeronautical science or aerospace engineering, he knew UW was the right fit. Read a full article on Van here.
Also continuing their love of football into collegiate competition are Dallen Pritchett, Gavin Armitage, and Bijan Washington.  These three friends and teammates will further their education and football careers at Pima Community College in Tucson, Arizona next year.
Cougar pride shines in these college bound athletes who, even when they become Raiders, Huskies, Bears, Crusaders, Pioneers, Aztecs, and Yellowjackets, will remember their roots at Capital High School.