I've been a tea drinker since I was a little girl having parties with my miniature Blue Willow tea set. Now a mug of robust Assam tea is my civilized way to begin each day. It's a soothing ritual to spoon leaves into the infuser, add boiling water and wait just a few minutes for a perfect brew.

Encore Chocolates and Teas in downtown Olympia has three Assam varieties for me to rotate through, plus a wall of 207 additional teas that I am invited to smell and consider. Dean Jones, Encore's knowledgeable owner, recommended Scottish Breakfast as a hearty morning alternative. When two ounces costs a mere $4.90 (makes 18 or so cups of tea) I thought, "how could I go wrong?!" Turns out, I didn't.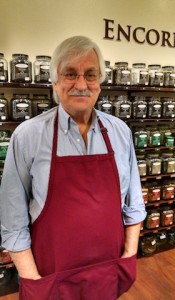 This attitude will serve you well as your browse through the tempting teas and chocolates. The smell-friendly tea wall could keep you busy for quite a while. I honed in on the Assam and organic Earl Gray.
I wanted to take more time inspecting the chocolates. "The artisan market is exploding," said Jones as chocolate connoisseurs are involved from bean to bar. Every chocolatier has a story. Shawn Askinosie was a criminal defense lawyer from Springfield, Missouri, who built a chocolate making business that involves the farmers, community and every step in-between, to create Askinosie Chocolate.  Another chocolate company featured in the shop is the brainchild of Adam Dick and Dustin Taylor.  The duo had been boat and furniture builders in California. Together they became Dick Taylor Craft Chocolate.
Making chocolate has become an art akin to wine making with attention to temperatures, flavor notes and, truly, every step of the process. Jones told me that when the chocolate is good, the flavor can stay in the mouth for 20 minutes. You can cram a whole bar down in a few moments, but you might want to do a bit more savoring. Closer to home is small batch maker called Ranger Chocolate from Portland.  Encore also stocks several chocolatiers even closer such as Chocolopolis and Seattle Chocolate. Encore sells bars, pieces and bags and remains on the hunt for excellent chocolate.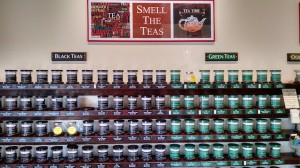 Dean and Carla Jones have been part of the fabric of our business community since the 1970s. They opened Four Seasons Book Store in Tumwater and for years it was immensely popular. Over time big-box stores shifted the landscape of book buying, and the couple closed the shop. They did consulting and marketing for other bookstore owners and publishers and helped independent businesses include private label teas to sell alongside their books.
Dean loves his customers and being an entrepreneur. In November 2013, the Jones opened Encore Chocolates and Teas in a space across the street from The Washington Center for the Performing Arts. Last April they moved into a larger storefront in the New Caledonia Building on 5th Street.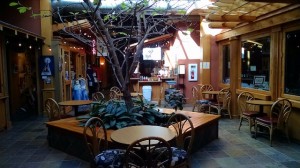 As you enter the building, you step into an atrium and are greeted by a tree in a large planter. The high ceilings and skylights create an inviting space where you think you're outside, but you're not. This area was recently operated as Two Sisters Tea Room. The Jones have taken over the atrium to offer a tea and chocolate sipping bar. Yes, there's drinking chocolate – creamy and sweet. There are plans for after-hours events and music.
For history buffs, the building was originally the Caledonia Hotel built in 1870s. It has a rich history with various tenants including a hardware store and in the 1940s part of the Proffitt's store chain. It was the site of David Grohl's (Foo Fighters) first drumming appearance with Nirvana. At that time, part of building was called the North Shore Surf Club. Get a glimpse of early Nirvana here.
You can visit Encore Chocolates and Teas seven days a week and enjoy free parking downtown on the weekends. Dean, Carla or one of their helpful team will be happy to talk chocolate or tea and show you around.
"The customer is the most important thing," emphasizes Jones. Tea samples are waiting for you. Whether you're a long-time friend or stopping in for the first time, you'll find great customer service. Then you get to take your purchases home and appreciate a few of the finest joys in life.
Encore Chocolates and Teas
116 – 5th Ave SE in Olympia
360-350-0833
For updates and more information, visit Encore Chocolates and Teas Facebook page.