Imagine the songs of pop-princess Taylor Swift, indie-rocker Elliot Smith, rapper Kanye West, metal band Pantera, and classical composer Bach performed on stage by a symphony of cellists. Imagine compositions that include percussion on the body of the cello, hip-hop beats and metal riffs mimicked by bass strings, and the occasional harmony of voice accentuating it all.

This is an example of the magic of Portland Cello Project (PCP). The group, signed to Olympia-born, Portland-based record label, Kill Rock Stars, continuously blurs the lines of contemporary and classical music—bringing their genre-bending performances to punk clubs and symphony halls across the country. This Friday, February 5, the Portland Cello Project is ready to wow Olympia with a show at The Washington Center for the Performing Arts.
"There is a great audience in Olympia.  The crowd is always very enthusiastic," says featured cellist Diane Chaplin. "That's always really rewarding for us, so we're really looking forward to being there."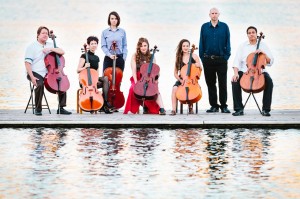 "You'll love it," she continues. "There's something about cellos that make everything sound great. And maybe that's because the cello is the instrument most like the human voice – in range and pitch and warmth."
Chaplin says that these characteristics lend favorably to different genres, noting that people who don't like heavy metal will find the beauty listening to cello, and the same for those who aren't fans of classical music.  PCP doesn't play half hour arrangements, they'll perform a century-old classic like Bolero, in a few minutes. With a repertoire now numbering over 1,000 pieces of music, no two shows are alike.
PCP doesn't have a printed program they share with their audiences. They prefer to stay flexible, relying on improv to mimic the vibe of the audience, explains Chaplain. However, she did divulge that PCP will play arrangements to honor the recently deceased David Bowie.
"We like being a little spontaneous with what we do," says Chaplin. "We try to be really responsive to what goes on in the world."
This responsiveness also includes youth engagement. Before the group performs, they're connecting with Boys & Girls Clubs of Thurston County (BGCTC).
The afternoon before their performance, PCP will split up and and send cellists to the four different after-school locations BGCTC serves, allowing them to interact with a large amount of students. Friday morning will be a school assembly with 400 kids.
"Educational music is really important because music is a universal language," says Chaplin, who is a classically-trained Julliard alumna, and also does educational outreach and conducts a youth orchestra.
"Reaching out to kids gives them some insight into how music is made on an instrument. They get to experience, personally, some of that musical sound, and their response is fantastic. They're always full of joy."
Music, Kids, and Art
BGCTC serves more than 500 kids each day between their four locations. Shellica Trevino, director of operations for BGCTC, says the kids are especially interested in music and arts.
"Youth, like adults, experience many emotions each day," she says. "Providing kids access and exposure to different forms of music and art gives them an outlet to express their emotions, in addition to giving them the chance to find what they're interested in."
In addition to the engagement and performances PCP will bring with their cellos, BGCTC will also partner with two artists who will meet with Club members prior to the cello performances to discuss how they can relate music to painting.
After the performances, the kids will paint an art piece that conveys their experience listening to the sounds of the cello. Kids will have a choice of painting a still-life, through which they will learn about shape, lines, composition, three-dimensional drawing, or they can focus more on their feelings from music, and experiment with color to express how they felt during the performance, explains Trevino. Some of these pieces may later be submitted to BGCA's national Fine Arts competition, and some will be sold to benefit the Club's annual Born to be Wild Dinner and Auction.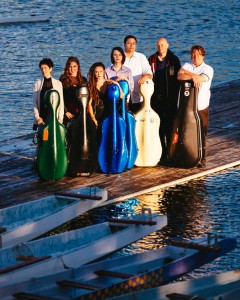 Trevino appreciates community engagement through partnerships like those with The Washington Center and Portland Cello Project.
"When our Club members witness service in action, their desire to serve grows," Trevino says. "I often hear people say how unengaged youth are these days. In my experience this is truly not the case. When we facilitate service opportunities, kids excitedly rise to the occasion."
Before PCP's performance at The Washington Center for Performing Arts, patrons can have the opportunity to attend a Pre-Show Soirée. For $30, patrons 21 and older can come together before the Portland Cello Project for live music, appetizers, and great company.
Click here to purchase tickets for Portland Cello Project on February 5.  For the special soirée, please contact the box office at 360.753.8586.