Gotti Sweets has been on the move. The Olympia-born sister and brother team of Rebecca and Arthur Gottlieb has taken their two-year old bakery business to downtown Olympia.
And they're thrilled. "We're so excited about the new spot," said Arthur, who has been deeply involved with the community for years. Supporters of such groups as Pizza Klatch, Capital City Pride and the Olympia Downtown Association, they now feel closer to the action. Previously tucked away in the Hawks Prairie shopping area, the location on Legion Way will bring new foot traffic and make it more convenient to grab a sweet treat.
The Gottliebs managed to squeeze all their equipment into the compact new space, which is about half the square footage of the Hawks Prairie location. They still have a couple of tables to enjoy your espresso and treat. The seating area will primarily be used for wedding cake tastings.
Their focus on specialty cakes continues. Did you ever see their fabulous wall of cakes? The new wall may be a bit smaller, but the cakes are wondrously creative and fun to admire. One is even upside down.
Though the square footage may have shrunk, the abundant bakery choices are still yours. The ever-popular macaroons are a bouquet of colors and flavors. These gluten-free taste treats may be made with green tea, lavender or rose water. You'll have to try them all to find out your favorites.
Gotti Sweets is also known for pie-tots, a riff on the word tater-tots but in actuality created with piecrust and fillings. Pie-tots allow you individual sized indulgences: a cream cheese crust folded around traditional and not-so traditional fillings such as pecan or coconut. Every bite is the right amount of flakiness of the outside with moistness of the inside.
Arthur loves to bake and decorate cakes. If you have an idea, a concept, a favorite story, hobby or vision, Gotti Sweets will create a cake to fulfill your sweet desires. Their colorful, whimsical cakes brighten up birthday parties – any party for that matter. "We haven't met a challenge we haven't been able to create," remarked Gottlieb.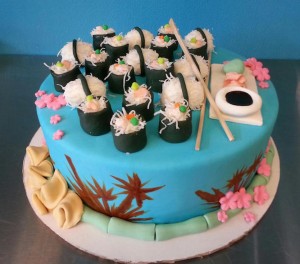 Once they made a five-foot totem pole entirely out of cake for the Wahelut Indian School. It had a Rice Krispy salmon on tip. That fed a lot of people. Whether you have an intimate dinner planned or a reception with 600, Gotti Sweets can deliver it.
Special orders and cakes made with sugar alternatives are also available from Gotti Sweets. "It's delicious," promised Arthur.
Being in the food business for two years is a definite accomplishment. I asked the pair what thoughts they have about their success. Both said that it was essential to "hang in there and don't get discouraged." Patience helps. So do loyal customers who make the challenges worthwhile. Rebecca mentioned that their customers have "become family over the years."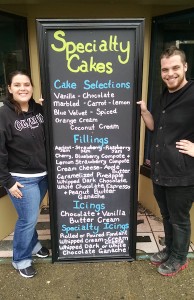 Celebrate Gotti Sweets by stopping in for the Grand Opening on January 30. Check out the wall of cakes and get a sample. Parking downtown is free after 5:00 p.m. and also on the weekends. Gotti Sweets also plans to be open seven days a week. For up to date information, visit Gotti Sweets' Facebook page.
Eat Well – Be Well
Gotti Sweets
422 Legion Way SE in downtown Olympia
360-489-1780