If the release of Star Wars: The Force Awakens has taught us anything, it's that fans come in all shapes and sizes – and sometimes their love for the Star Wars franchise can get a bit extreme. But when fandom coincides with productivity, amazing things can happen.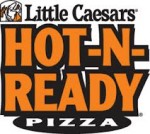 Take Ian Martin, a perfectly normal, socially well adjusted, happily married web developer living on a quiet back nook of the Nisqually Pines subdivision in Yelm. Ian also happens to be one of Tech Insider's World's Biggest Star Wars Fans. "I've been a Star Wars fan for as long as I can remember," he says. It's a lifelong connection, not just to the films, but to the culture of the Star Wars fan community.
Now, tinkering in his garage, he's built a real, working version of the Holochess game (also known as Dejarik) that appears in a twenty-second scene in the original Star Wars movie. You read that right. You can actually sit at a replica of the table from the Millennium Falcon and play the game.
Building Star Wars replicas is nothing new for Ian. He has always enjoyed the fan events and Star Wars costumes, so several years ago he set out to make a C-3PO costume. He is meticulous by nature, and the costume was accurate down to the last detail. In fact, it made such a splash that he has been flown to fan events as far away as Europe to show it off. He even stood on stage while Mark Hamill accepted the Jules Verne "Legendaire" Award and met George Lucas himself.
The Dejarik project started simply as a way to balance his highly cerebral job developing web applications by doing something with his hands. Sculpting takes him out of the computer and places him squarely in reality. He bought some modeling clay and began to sculpt the Holochess monsters, taking great pains to produce detailed, accurate replications of the characters that appear on screen.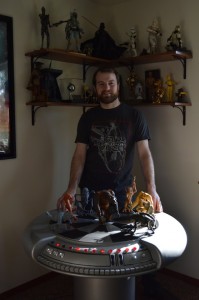 I asked him how many times he watched the Holochess scene. "A lot of times," he said. His wife, Amy, nodded. "A lot." (It helps that she's supportive. She plays Leia to his C-3PO, between teaching college-level art history classes.)
The result of that attention to detail is striking. The sculpts have life to them. And maybe that explains, to some extent, why after finishing the eight monster sculpts Ian decided to build a table to put them on. It couldn't be just any table. It had to be a replica of the table from the movie. And of course, accuracy can have no limits, so when he started to design the table he began to wonder whether he could make a table that would actually function.
He found some rulebooks that other fans had created, based on the way Chewbacca and R2-D2 play the game in the movie. His brother, Scott, refined those rules into a Dejarik Rule Book. Then he used Arduino, an open-source electronic prototyping platform, to build and program the circuitry inside the table. When he was done, he had a working board, complete with sound effects, that could be used to play the game using the monster sculpts as game pieces.
But it didn't stop there. Other fans noticed what he was doing, and before long he connected with a talented developer from France named Adrien Trouillaud. Together, they began experimenting with Augmented Reality – applications that use an electronic interface to insert computer-generated imagery into a real scene. Now, looking through your phone at the real table, you can play the game. The monsters animate. They move from space to space. They fight. It's pretty amazing to see.
Unfortunately for Ian – and perhaps even more for Star Wars fans around the world – Ian can't sell copies of his Dejarik game. Since acquiring the franchise from LucasFilm, Disney owns the licensing rights to Star Wars merchandise. Still, it's something we can all enjoy, at least from a distance. Ian has a YouTube channel, where he shares details of his creations, and it's more than possible that you'll run into him at a comic store or convention around the area. You can also follow Ian's creations on his Facebook page.
He might even let you play a game or two.