Keri Hodge isn't asking for too much. She wants to play with her son. She wants to go on family walks with the dog. She wants to take a deep breath.
Keri Hodge wants new lungs.

And, if the first graders at Boston Harbor Elementary School (BHES) have anything to do with it, that is exactly what she will get. While these six and seven year olds can't craft new lungs with their safety scissors and glue sticks, they can do something else: help raise money for the double lung transplant, and the extensive after care, that Keri so desperately needs.
Keri has cystic fibrosis (CF), a disease that affects over 30,000 people in the United States alone. According to the Cystic Fibrosis Foundation, it is "a life-threatening, genetic disease that causes persistent lung infections and progressively limits the ability to breathe."
Keri was diagnosed with CF at age four, but in spite of her disease, has lived a fairly normal life. She grew up in Boston Harbor, attending BHES where her 7-year-old son Cooper is now a first grader. She graduated from Olympia High School and continued her education at The Evergreen State College. She married her high school sweetheart, McLane Black Lake Fire Department Captain Heath Hodge, and they began a life and family together back in Boston Harbor.
"I've had CF all my life," explains Keri. "But I haven't really owned up to it until this year. I spent most of my life pretending I didn't have cystic fibrosis and feeling like that was the better choice because it made me tougher, fight harder, because I didn't have an excuse."
However, things have changed for Keri in the last year. Her CF has taken a turn for the worse. Keri is on oxygen 24 hours-a-day and needs a double lung transplant to save her life.
The typical wait for a CF patient to receive new lungs is nine months. Keri is in month four. "The waiting is excruciating," says Keri. "Your life is on pause. Indefinitely." She is on the UW Medical Center transplant list and many factors – lung size, blood type, post-surgical support, and condition of the transplant lungs – impact when she will get the call. In the meantime, she waits.
During this time, the community has rallied to help the Hodge family in many ways including raising money. The expenses will mount surrounding the surgery and post-care requirements, including living in Seattle near UW Medical Center – the site of the transplant – for three months post-surgery.
Local cystic fibrosis non-profit Return to Life has chosen Keri as their featured fundraising campaign and the balance on Keri's GoFundMe page has grown steadily.
Help is also on the way from Cooper and his compassionate classmates at BHES, led by their teacher Heather Myers. The class is hosting Lungs for Keri a fundraising Spaghetti Feed on February 6 at the school and everyone is invited. The event, coordinated by Myers, will include various sized silent auction items, like a big weekend at Seabrook, a terrific dinner, and inflatables and games for the kids. "I wanted to do something to help Cooper. I have two kids of my own at home, but I truly look at these 23 students as my other kids and I wanted to do what I could to help," says Myers. "Plus, this teaches them something outside academics. It teaches empathy and compassion in a way I never could in my classroom alone."
Myers made sure the kids were an essential part of the planning and execution of the event. "The kids will all take one-hour shifts helping at Lungs for Keri," she explains. "They will be bussing tables, greeting at the door, taking out garbage, or refilling napkins and utensils. They are making all the decorations including flower pot centerpieces that we will sell to help raise more funds."
Myers has an army of volunteers helping including several parents who are Providence physicians or employees. When Providence heard about the first graders' efforts, they offered to cater the event, donating food, drinks, and all the paper goods. They will even provide chefs hats and aprons for each student helper.
Providence physician, Dr. Meghan Duffie, has a son in Cooper's class and visited the classroom to explain the medical side of a lung transplant, bringing stethoscopes for the kids to listen to each other's lungs, hearing their healthy function.
Keri has also visited the class recently, something she had to give up as her health declined. She read a story about a mother with cystic fibrosis waiting for a lung transplant. The book helped the children understand how the surgery will allow Keri to play with Cooper and volunteer in the classroom again, giving added meaning to the hard work they are doing to prepare for the event.
Tickets for Lungs for Keri Spaghetti Feed and Silent Auction can be purchased at Boston Harbor Elementary, the Boston Harbor Marina or through the event Facebook page and cost $30 for a family of four ($5 each additional family member) or $10 individually.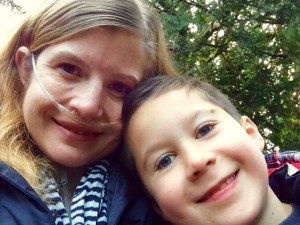 "It has been really different for me to become the center of attention and all of it being about CF," says Keri. "But, I'm realizing what a gift so many people are giving to me – not just the gift of getting new lungs or the gift of money. There are just a lot of people thinking about me and my good health and that really feels powerful to me and makes an impact. Every time I hear about someone else supporting me, I think, 'OK…I've got this.'"