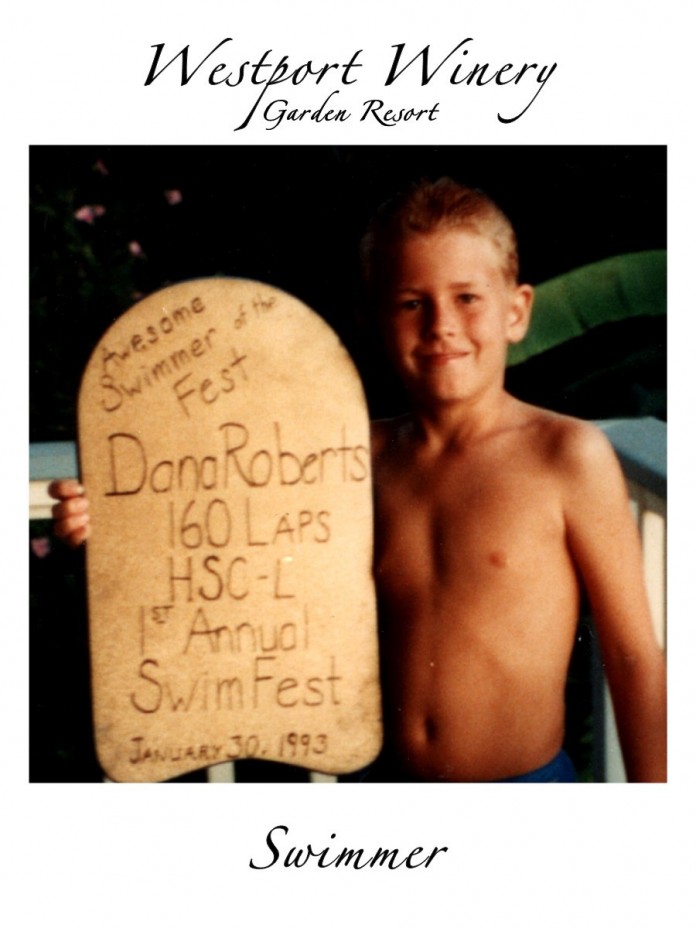 Submitted by Westport Winery Garden Resort
Westport Winery Garden Resort's Petite Sirah, aptly named Swimmer–after Director of Winemaking Dana Roberts–earned a double gold medal at this week's San Francisco Chronicle Wine Competition in Cloverdale, California. The 7,162 entries from around the world were evaluated by 70 judges.
Swimmer, crafted by Roberts from grapes grown at Jones Vineyard on the Wahluke Slope AVA, has been a consistent medal winner since its 2014 release. The label, featuring the winemaker as a young competitive swimmer, is one of four in the winery's 35-wine selection that highlights one of the family members.
A portion of the proceeds from Swimmer is donated to the Grays Harbor Children's Advocacy Center. (Each wine in Westport's list benefits a local charity with two hard ciders benefiting Mercy Ships.) Another benefit to the community of Westport's many selections is that each is honored in the resort's public garden with an outdoor sculpture. The art commemorating this label was created by Elma's Frank Ratte.
The winery's lively Gewurztraminer, named Captain Gray, earned a silver medal at this prestigious competition. A portion of the proceeds from this wine benefits the Grays Harbor Symphony through the Bishop Center. The sculpture commemorating this wine was created by ceramicist Kimmi Kerns.
Both of these sculptures are located in the 5-acre Beauty From Ashes Garden which was newly opened this past summer bringing the resort's dedicated display garden area up to 15-acres on the 68-acre estate.
Guests can meet Dana personally every Saturday and Sunday at 1 p.m. during the Backstage Winermaker's Tour.
Westport Winery Garden Resort is located on the corner of Highway 105 and South Arbor Road halfway between Aberdeen and Westport. The winery (including the restaurant, bakery, nursery and gardens) is open daily and offers lunch and dinner from 11 a.m. to 7 p.m. For more information call 360-648-2224 or visit the website at www.westportwinery.com.