Bron Lindgren's introduction to auto repair was repairing vehicles to "make ends meet" after the birth of his son. He soon found this to be an avenue for the use of his problem solving skills. He considered briefly having his own business but was initially afraid to take the leap.
As is the case with Bron, he wanted to do things well. Therefore, he studied Automotive Technology at South Puget Sound Community College in from 1980 – 1982. After graduating from the course, he honed his repair skills over the next 20 years by working for car dealerships, Intercity Transit, and independent auto repair shops. During this time, he observed the business and management practices of his employers, which would later shape his management style and business philosophy.
Chronic back issues and the desire to try out his own ideas led Bron to return to SPSCC for business and accounting courses with the intention of starting his own auto repair business. With the wholehearted emotional and financial support of his wife, Tuula, he started Bron's Automotive in 2002. He utilized $7,500 in savings and the prudent use of credit cards as his startup capital. He bought shop equipment as he could afford it and a friend taught him basic Quickbooks over a period of weeks. Initially, Bron wore all the hats of the business; working a 65-hour week, repairing vehicles, answering phones, and doing the basic bookkeeping. Since then, Bron's Automotive growth has been fairly measured, with sales and profits continuing to grow every year.
"I use (Bron's) shop as an example to my students of what a 21st century independent, automotive repair shop should look like," shares Norm Chapman, SPSCC Automotive instructor.
"He insists his technicians do things the right way, even if it means a cut in the company profits. He insists that his techs follow the appropriate repair procedures, and never cut corners or sacrifice safety." Customers share sentiments regarding professionalism, high code of ethics, competitive pricing, and timely repair.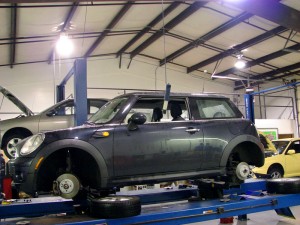 Not only is Bron an excellent example for business startup and growth, but inspired by his parents' tithing, Bron gives back to the community with his time and financial resources. He recently served on the Behavioral Health Resources fundraising board, supporting the provider of mental health and addiction recovery services. At West Olympia Rotary, he is very active with the Literacy Program. He provides financial support to several nonprofits in the South Sound area. His philosophy is that "success is created by maintaining a generous spirit and sharing what you have."
Bron's commitment to SPSCC continues to this day. He has been actively involved on the SPSCC Automotive Advisory Committee for several years, providing valuable input from his knowledge and experience. Two of his three technicians are graduates of the SPSCC Automotive Technology School.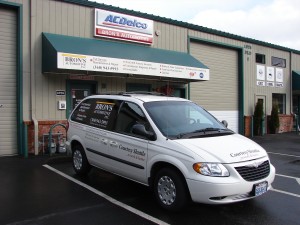 Bron says that he has no regrets looking back over his career thus far and notes that he likely lacked the maturity to start a successful business as a young man. He describes running a business as very rewarding and challenging and adds, "there's never a dull moment."
To learn more about SPSCC's Automotive Technology program, click here.
Bron's Automotive is located at 1025 Black Lake Blvd SW in Olympia. To schedule an appointment, call 360-943-5993.