The athletic training room at Capital High School is always a hot spot of activity when the school day ends. Athletes, in and out of season, stop in to get a wide variety of body parts taped or worked on, to receive physical therapy, or to have a "this is hurting and I don't know why" situation assessed. At the center of all of this buzz, with a constant smile on her face and giving instruction with her soothing voice, is new athletic trainer Rebekah McFann.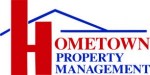 Becoming an athletic trainer requires years of training and, in some cases, relocating to receive the depth of education you desire. McFann first studied at Garden City Kansas Community College for two years before entering Kansas State University to earn her bachelor's degree in athletic training. McFann continued her training and finished graduate school at the University of New Mexico.
The world of athletic training is like no other. "Athletic training is always high volume at the high school level," shares McFann. It's her job to address the needs of every athlete in every sport for all three seasons. Organization is of utmost importance. McFann says the real key to a productive day is to get people flowing in and out of the training room efficiently, which she does with grace for at least two hours daily after school. McFann explains that the job requires a lot of time and extra hours, but finds helping people extremely rewarding.
A former athlete herself, McFann played basketball and participated in track and field. This translates well with the Capital High School athletes. They find her easy to relate to and comfortable discussing their sports related physical issues. Tearing her ACL while playing basketball in high school peaked McFann's interest in becoming an athletic trainer. She had always been interested in medicine, but spending time in physical therapy and being around physical trainers opened her eyes to a whole new world of medical care.
Luck, talent and friendship worked together to bring McFann to Capital.  She was friends with CHS's former athletic trainer, Amy Garrison. When McFann finished graduate school, she began looking for a job in Olympia. Garrison, who happened to be moving across the state, shared the open position as Capital's athletic trainer with her. McFann jumped at the chance and was hired in August 2015. Now CHS athletes couldn't imagine the training room without her. She fills the room with contagious high energy and a positive attitude.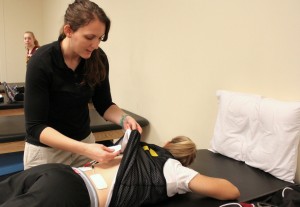 McFann states working with athletes, particularly young athletes, is one of her favorite aspects of working as an athletic trainer. She enjoys the energy of high school aged athletes and has fun working with driven kids. In addition, McFann finds it extremely rewarding to watch all of the hard work injured athletes put into healing and seeing that effort translate to success on the field. She's extremely patient and will always stay late to help an athlete. Whether it's figuring out what's causing hip discomfort, trying different treatments to relieve an aching back, or teaching exercises to help injured athletes get back to a competition level, McFann is always there. She has vast knowledge and shares her helpful insights freely.  
Along with the joy that comes from working with kids comes a few minor frustrations. McFann says the most difficult part is teaching teenagers self maintenance when recovering from an injury. "This age group can totally be a blessing and a curse," she explains. "Sometimes, it's an easy solution, like stretching. But you have to teach the kids to stretch every time, not just once."
And while McFann loves the fast pace, she admits the training room can get crowded, particularly before a big game. She works to keep a steady flow going in order to assist all waiting athletes while ensuring they receive the depth of care required.
The positive effects of McFann's helping hands are already being seen throughout the school. "Capital High School couldn't have asked for a better athletic trainer than Rebekah," says freshman Maddie Thompson. Thompson is a varsity soccer player who tore her ACL early in the season. She worked with McFann regularly to gain strength before her ACL repair surgery. McFann's aid, Maddie shares, has helped her recover at an accelerated rate. Thompson adds, "She is at every sporting event you could think of, even if it's pouring down rain, freezing, and even if she's hurt herself. She's always there to make sure we're taken care of."  
When McFann looks to the future, she keeps her goals realistic yet ambitious. She is excited for the possibility to teach an athletic training class to high school students, spreading the word about her profession. One dream she holds closer to her heart is to be an athletic trainer at the Olympic Games.
Rebekah McFann has already made a positive impact on Capital High School, getting the athletes through the fall season and well into the winter sport season. With her welcoming attitude, thoughtful attention and seemingly endless energy, Capital High School is lucky to have McFann on their sidelines and hopes to see her there for years to come.