Every two minutes someone in the Pacific Northwest is receiving blood. In order to maintain the blood centers, 9,750 donors are needed every year. Thank goodness Tori Fairhurst, Donor Recruiter at Bloodworks Northwest, spends her days striving to reach this goal. "I remember vividly," she said as she recounted her first experience of donating blood. It was in high school at Gonzaga Prep when someone came to school talking about what it meant to give blood. She went to the head of the line, enthusiastic to be the first one. It's been a part of her life ever since.

I've thought numerous times about donating blood, but it never happened. No one ever asked me, which Fairhurst explained is the most common reason (92% of the time) people give for not participating. It's not about disliking needles or being afraid. I knew that writing a story would be my perfect opportunity to become a donor.
Let's be clear. I'm no fan of needles and have always turned my head whenever I had blood tests. However, as I learned more about the critical need for blood, I wanted to donate. Laboratories make most medicines, but they are not able to make blood. Banks are frequently short.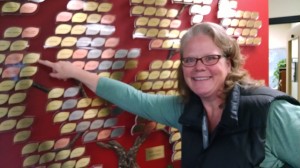 Bloodworks Northwest, a community centered blood center, located on Eastside Street in Olympia, makes donating easy. You can make an appointment online or by calling 800-398-7888 ext 2. When you arrive, there's special parking close to the door. After being checked in, you get to read a number of pages about giving blood. Then there's a questionnaire about your general health, your travels, and the medications you may take. It doesn't take too long, but it's important.
When I finished answering the forms, I was invited into a small office where I gave a pipette of blood from a quick finger prick. This sample was analyzed to determine if my red blood cell count was high enough to donate. A healthy person can give away a pint with no ill effects. After donating the body goes into the making more blood mode. Soon enough, levels are equal to where you started – almost like magic.
My health, travels and blood count were all fine. The next step was to relax in a recliner. The phlebotomist inserted the needle in my arm in one swift movement, covered it with a gauze pad and hooked me up. Within ten minutes, the process was over. Then I moved to the adjacent canteen to sit another ten minutes with a small snack. There was tea, water, juice, cookies, raisins and chips. I never felt faint but I did have a cup of tea and a Mountain Man chocolate chip cookie. It's recommended to stay well hydrated, but that's good advice any time. Also, avoid heavy lifting for the rest of the day. I drove away with a happy heart.
Whole blood donated in Olympia is taken to a processing center in Renton where it is divided into three parts: red cells, plasma and platelets. Someone could be receiving your donation in as little as 48 hours from your visit. Blood is needed for people in accidents, during surgeries and to treat illnesses. Basically, it means saving lives. For example, donated blood went to a ten-year old boy having open-heart surgery and helped treat a mom with sickle cell anemia.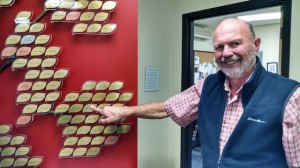 Tori organizes blood drives in Thurston, Lewis and Gray Harbor counties. In a year they add up to close to 400 new donor groups. Many events happen at high schools, which are the source of an impressive 23% of donations. Students are often shocked to learn people their age can need blood. Timberline High School continues to be a generous source of givers. A recent drive procured 230 donors in two hours.
Tori loves giving presentations to students and other groups, transferring her passion into the action of others. "Saving people is awesome," Tori added. If you and 25 of your dear friends want to donate, Fairhurst can even come to you. You can donate whole blood about every 8 weeks (or 56 days), and once or twice per year is great. People are also needed to donate platelets only. This process takes longer but it's possible to donate more frequently.
My little but mighty pint of blood found its way to three different people. Tori assured me that it saved lives. I don't know who those people are, but I hope their holiday season is a bit brighter now. I have a ways to go to catch up with the people who are part of Bloodworks Northwest's tree of life. It's an artistic representation for frequent donors. Metallic leaves are added to the tree for those who reach 100 donations. There are leaves for 200 and 33 times as well.
Phillips Cameron of Rochester got a head start on me. He's been donating since 1964, inspired by his father's example. When asked why he keeps giving, he replied, "It gives a me a good feeling." I now know what he means.
Give a precious gift. It's not found in any store at the mall. An hour of your time will save lives. One day maybe it will be you that is on the receiving end.
You can also find Bloodworks Northwest on Facebook.