Tommy Brassfield slowly exited from the back of the Tacoma Dome, pads in hand and tears still welling up in his eyes. The Tumwater High School senior had experienced this before, but that familiarity did little to lessen the pain.
For the fourth consecutive year, the Tumwater High School football team saw its season come to an end with a loss in the Tacoma Dome. The Thunderbirds suffered a heart-breaking 22-15 loss to Prosser in the Class 2A state championship.
"We all sting right now," said Brassfield, the T-Birds' all-league center. "It's going to take a while (to get over). For me, it might take a couple months. After a while we will all realize just how great this season was."
And it was. Tumwater finished 13-1 and came within 30 feet of a potential game-tying touchdown against the Mustangs in the title game, but the team's fifth turnover of the contest dashed their hopes of capturing the program's sixth state crown.
A week after rallying for an improbable victory over previously undefeated Archbishop Murphy in the state semifinals, the T-Birds couldn't duplicate that same magic against Prosser (13-1), although they came extremely close to doing just that.
For a second consecutive game, junior linebacker Cade Otton forced a late fumble, recovering it at the Prosser 37-yard-line with 1 minute and 9 seconds remaining in the game.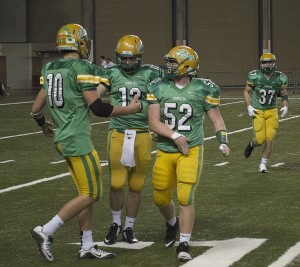 Tumwater was able to march down to the Mustangs' 10, but unlike the semifinals, where Noah Andrews' 10-yard TD reception from Spencer Dowers gave the T-Birds the 24-21 victory, the T-Birds fumbled the ball right back. Dowers coughed up the ball after being hit from behind while scrambling from the pocket with 30 seconds to play.
Prosser senior defensive lineman Riley Lusk was there to secure the fumble, ending the season in dramatic fashion and giving the Mustangs their fifth state championship, and first since 2007.
"Right now they are hurting, and they should be because of the investment they put into this season," said Tumwater head coach Sid Otton, who guided the T-Birds to state titles in 1987, 1989, 1990, 1993 and 2010. "It was a great performance by Prosser – two great teams. We just made a few too many mistakes."
While Prosser players celebrated, the scene was reminiscent to the last four for the T-Birds, who lost in the state semifinals to Sedro-Woolley (28-27) last year. Tumwater also lost in the title game to Lynden in both 2012 (41-7) and 2013 (38-28).
Despite not capturing a state title, Brassfield and his fellow seniors leave the program after posting a school-record 38 victories over their three-year varsity span, surpassing the 37 wins the Class of 1991 team accumulated.
"Obviously, you never want this to happen. We wanted to go out on top by winning a state championship," Brassfield said. "But in the end, we're just going to look back on the memories. This was one of the greatest games I have ever played in. We never gave up. We talk about never giving up and we just embodied that all season."
That was never truer than during Tumwater's last two games where the T-Birds faced a deficit for the first time this season and were able to battle back both times.
The game's flow was eerily similar to Tumwater's showdown the previous week against Archbishop Murphy.
Tumwater, which trailed 21-7 to the Wildcats before going on to win, once again got off to a slow start and found itself trailing 15-0 midway through the second quarter and 22-8 at the half. Mustangs quarterback Tanner Bolt, who threw for 213 yards and three TDs in the first half, successfully executed Prosser's quick-strike short passing game.
Easton Trakel, a pre-season all-state selection who had missed a large majority of the year because of an injured hamstring, got the T-Birds on the scoreboard, hauling in a 42-yard touchdown pass from Andrews with about three minutes remaining in the first half.
It was a gutsy performance for both Trakel and fellow senior Griffin Shea (ankle). Arguably, Tumwater's top two offensive weapons, Trakel and Shea, the Evergreen Conference 2A MVP, were both still visibly slowed by their injuries and saw their playing time limited, yet still showed their gumption by suiting up and playing their final high school football game.
Like last week, the Tumwater defense pitched a second-half shutout. This time it just wasn't enough.
A 3-yard scoring scamper by Jarid Barrett cut the deficit to 22-15 midway through the fourth quarter.
However, three red zone turnovers, including a pair of interceptions, doomed the T-Birds' chances at the victory.
"They had a great season," Coach Otton reiterated. "It's hard for them to see that now. Unless you win the last one (game), it's hard to really realize that, but in time, they will."
Cade Otton capped his incredible junior season with a game-high 14 tackles. He also had an interception in the fourth quarter waved off due to a penalty.
Andrews paced Tumwater's ground game with 89 yards on 13 carries, while Dominic Jones finished with 73 rushing yards on eight carries.
"I've created bonds that will last me the rest of my lifetime," Brassfield said. "I know when I come back for my 20-year reunion we're not going to be talking about losing the state championship. We're going to be talking about the relationships we built and the experiences we shared together."