Oh, the anticipation! You just opened the mailbox, and there is a package, addressed to you, inside. You have no idea what is enclosed and you race inside the house to open it up and take a look. That feeling of excitement and anticipation was what prompted Olympia mom, Rana Longworth, to start Mom 'n Tot Box, a monthly subscription box for moms and their young children.
Longworth launched Mom 'n Tot Box in September 2015 as a subscription service where customers receive a box of surprises in the mail each month. The contents vary each month, but typically include a toy or educational game, an article of children's clothing, a book and a surprise for mom like a candle or a necklace. Items in the box are tailored to each recipient's age, gender and clothing size.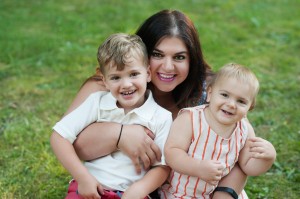 Longworth, the mother of two boys ages 18 months and 3 ½ years, loved to see the excitement on her older son's face when he opened packages. And while she and her young sons had tried other subscription boxes before, Longworth knew she could add her own twist and create a package that would make the moms as happy as it made the kids.
The Mom 'n Tot box differs from other subscriptions in two ways. First, she added something for mom. After all, moms like surprises as much as their kids, so the box should have something for them, too. And second is her choice of vendors. "There are a lot of subscription boxes out there, but what sets us apart is that everything in our boxes supports small businesses by sourcing unique, handcrafted products," said Longworth.
Subscriptions can be purchased for one month, 3 months or 6 months, and a sibling box is also available for moms with more than one young child. Want to give a single box or a subscription as a gift? Purchase the subscription and Longworth will send the recipient a card announcing the gift with the first box arriving with the next monthly shipment.
Longworth, who previously worked as a retail store manager, is capitalizing on her experience creating happy customers. With a steadily growing list of subscribers and not a single cancellation so far, she has created a product that pleases moms and kids alike and provides an experience beyond the items in the box.
Whether Mom 'n Tot Box recipients race to the mailbox when their Mom 'n Tot Box is due or they secretly hide the box away to open on a rainy day, the excitement of opening the box and digging into the bright yellow tissue is a memory that moms and kids won't soon forget.
For more pictures of some of the products sourced by Mom 'n Tot box, follow the local business on Instagram.