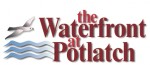 In autumn we enjoy our traditions and relish the shift in senses: the feel of heavy sweaters as the cold air snaps, the striking sight of bright red and gold leaves against a dark evergreen backdrop, the scents of comfort cooking, rain… and struggling fish. Late fall field trips to salmon spawning creeks have become customary for our students. They learn about the life cycle, habitat and importance of the fish and their environment. They don't typically learn, though, why the salmon sometimes cross roads.
Mason County children are more likely to know about this, especially if they live around the Hood Canal delta. There, the Skokomish River tumbles out of the rugged Olympic Mountains into Annas Bay at the elbow of the canal in Union. The Skok, as local residents call it, is a major salmon spawning ground and Hood Canal teams with these hardy swimmers that head home every year to reproduce and die far upstream.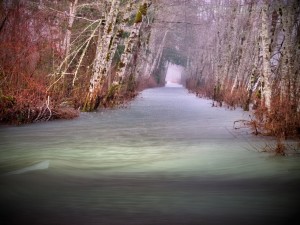 As if this annual phenomenon isn't impressive enough, some of the fish literally traverse roadways on their journey.
How on earth does this happen? Well, it happens on water on earth. When the river floods, which it often does with heavy fall rains, certain roads are awash with overflow for a few days. Neighbors might then witness the salmon being diverted from their course over blacktop. The fish are genetically programmed to return to their original birthing grounds in tributaries, but this occurrence can thwart their progress.
The Skokomish is the most frequently flooding river in our state, according to the Washington State Department of Ecology. Their study regarding restoration and sediment management in the Skokomish River Floodplain cites how flooding "overtops existing dikes, flushes fish out of the main channels…"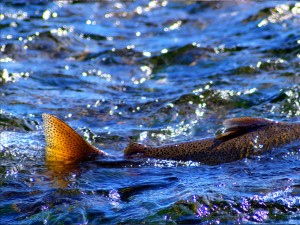 Rich Geiger of the Mason Conservation District reports that the official flood elevation of the river is 16.5 feet, which is two feet over the river's normal level. However, he explains that spillage starts at around 15.25 feet in areas of the floodplain. To see a video about the restoration project can be viewed on their website.
Many residences of the Skokomish Valley, especially near the delta, get swamped. Some properties even have fish left here and there. While many of us deal with branches all over the yard after a storm, imagine your place strewn with salmon.
These Chums, in case you're wondering, are not for catching. They're headed home to spawn then die. They are full of ingredients to replenish the population which, according to Geiger, is of great importance to the health of the entire Puget Sound. In addition, epicureans would argue that their meat is past its prime. Many avid fishers get a proper license in summer and head out to the rivers to catch good salmon. These fall salmon are for the birds, as resident photographer George Stenberg points out. He says a few people who have seen his photographs online are concerned about cars hitting the fish but that tens or hundreds of thousands are making it, and some are dying out in the flooded fields, adding, "The eagles are doing just fine."
The bigger concern with cars and the occasional viewing of this phenomenon is the water itself. Locals know their roads and where they can safely pass during high water before officials close roads. Some manage to view the strange, awesome and somewhat comical sight. Daimon Doyle lived above the Skokomish delta for nearly 20 years and remembers driving carefully in certain areas. He would occasionally take his kids to see the fish flounder across the asphalt on their way home from school in rural Union. He remarks, "It's one thing to have to watch for deer crossing the road. It's quite another to have to watch for salmon."
While it is a strange and compelling event, the street fish of Mason County indicate an environmental issue that local and state agencies are well aware of and addressing. Restoration studies and projects are underway to decrease the unbalanced influx of sediment that pushes the river ever higher when swelling with rain or snow melt. Properties, homes and residents will benefit from the resolution of the Skok's flood issues. Salmon on Mason County roads may soon be a thing of local lore.
We can explore several creeks around Thurston County and surrounding counties to see salmon struggle upstream and spawn in fall months. In November, Kennedy Creek has a public trail with wildlife interpretive guides who share information about the salmon's life cycle and habitat.
To see the salmon jaywalk across Union's roads, though, takes some guesswork and luck. If you do go, be cautious driving and respectful of the salmon, their habitat and the neighborhood. It is a great spectacle but remember why the salmon crossed the road: it was flooding.