Although their anniversary was last June, Don and Rosalie Melnick didn't really celebrate until the first of December. That's the date they were able to book world renowned classical guitarist Eliot Fisk for an invitation-only event at the auditorium at Panorama .
It's not every day that Fisk will find an opening in his schedule to play at a private event. But this request was different. You see, Rosalie Melnick, a retired teacher and psychologist, had been trying to see Fisk in concert for decades. At one time, she saw him on almost a daily basis. She was his high school biology teacher, after all. According to Rosalie, even back in the late 60s Fisk was "playing the guitar and had quite a good reputation for a young kid."
She and her husband attended a concert or two back then, but after Fisk graduated and the Melnicks moved cross country from New York to Seattle in 1974, Rosalie lost track of her former student. It didn't take too long before he was back on her radar, though. "One night I was driving home from work and there was an announcement on the radio that there was going to be a concert by classical guitarist Eliot Fisk at Pacific Lutheran University that night," says Melnick. The announcement caught her by surprise, but she immediately knew who it was and turned her car around to head south before realizing she had no idea where PLU was. "It was less than an hour before the concert started, and there was no way I would have made it in time, so I very reluctantly turned around and headed home, depressed that I had missed this opportunity to see and hear him."
She tracked Fisk down after that and they have remained in contact ever since. But seeing him perform live just wasn't in the cards. There was at least one other opportunity when he was an artist in residence on Orcas Island. "We had it all arranged. We had reservations and everything, but then I had a gall bladder attack and had to have my gall bladder removed."
Finally this year, to celebrate their fiftieth wedding anniversary, Melnick said to her husband Don, "Instead of having a party, let's have a concert!"
"When Mrs. Melnick proposed this project I immediately said yes," said Fisk. "I was so touched by her wanting to have me celebrate her wedding anniversary with my music. This is really what music is for: it brings people together and celebrates the most fundamental and important things in life."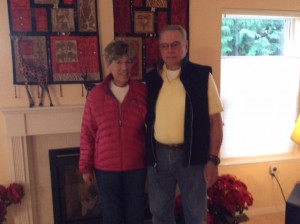 It seems fitting that the concert took place in the beautiful auditorium at Panorama. Don Melnick, a retired civil engineer, lead the task force that planned the facility. Both he and his wife have been heavily involved in the Panorama community since moving there in 2005.
The couple met on a blind date while in college in New York. He was a senior at Clarkson University and she was a freshman at SUNY, Potsdam. They dated the entire year, but then Don headed out to California and Rosalie set about finishing her undergraduate degree. Her senior year he sent her a letter at Christmastime and they started writing. The next fall, he visited her while she was teaching in Maryland and they resumed their relationship. They married the next summer.
It was "either June 27 or June 28, 1965," says Rosalie. Apparently the minister who performed the ceremony, dated the license incorrectly, and then left for Europe for the summer before fixing it. For a while, Rosalie says she was in a panic about whether or not they were legal!
They didn't honeymoon. Instead, they packed up Rosalie's Corvair and drove cross country to California where Don was working. Rosalie taught school there and also back in New York when they returned for Don's work. Along the way, Rosalie picked up both a Master's Degree and a Ph.D. in counseling and educational psychology, and Don, who also picked up an advanced degree, continued to work as a Civil Engineer. Eventually his career brought them to the Pacific Northwest where he was a partner with R.W. Beck and Associates. Rosalie taught part time at the University of Washington and then worked full-time at the V.A. The couple lived on Lake Washington until they retired in 1997 and moved to Harstine Island.
When they decided it was time to move a little closer to the resources they might need, they knew Panorama was the perfect location for them. Rosalie's parents had lived in the retirement community, so they were already familiar with the many amenities it offers. Shortly after moving in, Don was asked to spearhead the task force for the auditorium. He helped with fundraising and also used his engineer skills as a member of the construction committee. Since the Panorama Auditorium opened, he has also served on Panorama's Green Team, helping the community with recycling and other sustainable issues.
Now days the couple spends a lot of their time traveling and just recently returned from a month long trip to Australia. They also have season tickets to Harlequin Productions and frequent The Washington Center. Don serves as a citizen representative on the InterCity Transit Board of Directors, and Rosalie is on the Patient Advisory Council at Providence St. Peter Hospital.
The Melnicks hope to continue their involvement in the community for many years to come. ThurstonTalk congratulates them on 50 years of marriage and we hope it doesn't take them quite so long to see Eliot Fisk in concert again.