North Thurston High School boys tennis coach Fred Reed has a rule that younger players must play doubles first before given the choice of becoming a singles players as a senior.
"With singles you can be one type of player and be successful, but with doubles you really have to be a versatile player," Reed said. "It's tougher to turn younger single players into doubles players than it is to take a good doubles player and make him a singles. My goal is to make them play doubles so they can establish a more well-rounded game. Once they become seniors I give them the choice of staying with doubles or moving on to singles. They almost always stay in doubles."
Reed's requirement has worked out extremely well for the sophomore team of Michael Campbell and Thomas Sui.
Campbell and Sui were first teamed up together as freshmen last year. They clicked immediately and will now be making their second appearance at the Class 3A state tournament.
"Playing singles, you just have to fight through everything," Sui said. "When you're playing doubles if you get into a slump you're not going through it alone. Your partner can help you find a way through it."
Campbell and Sui will enter the state tournament as the 3A West Central District III/Southwest District 4 champions, but will have to wait until late May to participate at the Class 3A state tournament. The tournament will be held May 27 and 28 at the Tri Court Club in Kennewick.
"It's a little frustrating to have to wait because we were playing so well," Sui said.
The team is coming off a rookie campaign which saw them finish second at the district tournament to teammates Josh Brick and Joonick Ahn before posting a first-round victory at state. Back-to-back losses followed, ending their first season together, but the experience gained at playing against such high-level competition has certainly been beneficial this year.
"I think (last year) it helped them become tournament tough," Reed said. "They are much more relaxed this season and more confident together."
With Brick electing not to play this year, Ahn made the move to singles, sliding Campbell and Sui into the Rams' top doubles slot.
"This year has been a little different without (Brick and Ahn) playing together," said Sui, adding that each day in practice during his freshman season he was facing state tournament-quality opposition. "We would push each other. It definitely made us better players."
The duo's sophomore season actually began with a non-league loss as the team dropped it's opening match against perennial 4A powerhouse Bellarmine Prep in a tight three-set match (7-5, 4-6, 6-2).
A second non-league affair followed against Olympia with Campbell and Sui losing the first set to Jeremy and Justin Ong (6-2). It was the last setback the Rams' top doubles team would experience during the regular season as they went on a tear, winning the next two sets to score the victory which kick started an nine-match winning streak to end the regular season.
It's been pure dominance as during the streak they have defeated their opponents in straight sets eight times, with the closes set coming in a 6-2 win over Wilson. The success was then parlayed into a district championship.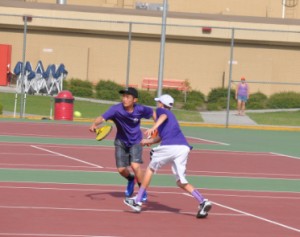 "They've been exciting to watch," Reed said. "They are really two different types of players. They complement each other on the court. Both are very coachable. They don't get down too much. They never seem to get frustrated with each other. It's a great combination on the court."
Regardless of how they finish at the state tournament, Campbell and Sui are expected to be back as a doubles team next season for their junior year. But what path they elect to go as seniors remains to be seen.
"I think it all depends how we do at the state level the next two years," Sui said. "If we do well and place pretty high, I think we'd want to come back as seniors and go after a state title together."