By Kathryn Millhorn
In the wide world of policing it's usually the police dog that finds you. But starting November 29, downtown Olympia becomes a life-sized scavenger hunt where kids not only find the police dog, but earn rewards in the process.
This is the second year the Olympia Police Department is holding their 'Where's Melnic?' contest throughout downtown. A black and brown long-haired shepherd, Melnic has been with the department for five years. Amy Stull, Police Community Programs specialist, encourages families to bring kids downtown to explore and win a visit with Olympia's fluffiest officer.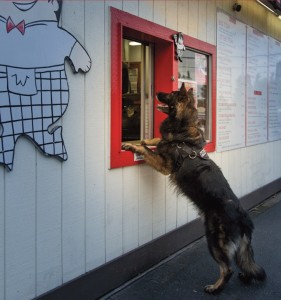 The contest entails (pun intended) simply finding posters of Melnic at participating local businesses. You can print a Where's Melnic Checklist online or pick one up at the Olympia City Hall on Fourth Avenue East in downtown Olympia. If you mark five locations where you've found posters, return the form to City Hall and you'll received a glossy paw-tographed photo and invitation to a spring meet-and-greet with Melnic and his human counterparts.
In 2014 more than a dozen businesses participated in the Scavenger Hunt with over 50 total community explorers. This year Stull and her team are still recruiting host stores but poster locations include Panowicz Jewelers, Peace, Love & Raw, Vue Vision, and State of the Arts Gallery.
Each downtown poster of Melnic is unique but you can find samples at the city's Where's Melnic? page. Need a hint on where to start? Tweet @OlyPD for Twitter hints or follow Melnic's personalized Facebook page for additional weekly clues.
Stull loves that the hunt "brings families downtown and is a great positive interaction between police and their community." The opening of the Scavenger Hunt will be during the Downtown for the Holidays parade on Sunday, November 29. During the community-wide celebration, officers will hand out entry cards amidst trolley rides, horse-drawn carriages, gingerbread creations, and visits from Santa Claus.
Once participants have visited five poster-emblazoned shops, families have until Monday, January 5 to turn in their checklist. They'll receive a photo of Melnic and return in the spring for an exclusive, invitation-only event. Stull says the reward day includes demonstrations of Melnic's skill, training, and "lots and lots of cuddling."
Want to see Melnic in action before January? Watch videos on his Facebook page or read his bio, which includes "over 60 arrests credited to him in the three years he has been at the Olympia Police Department."
The U.S. Department of Justice encourages "collaborative partnerships between the law enforcement agency and the individuals and organizations they serve to develop solutions to problems…Individuals who live, work, or otherwise have an interest in the community—volunteers, activists, formal and informal community leaders, residents, visitors and tourists, and commuters—are a valuable resource for identifying community concerns."
K9 dogs, like Melnic, and his human handlers do more than just keep our city safe. They provide an easy, approachable way to meet local police and a fun reason to explore the many small businesses that make our downtown special.
Call Amy Stull at 360-753-8049 or email her at astull@ci.olympia.wa.us with questions or to sign your business up as part of the Scavenger Hunt.
Thrifty Thurston highlights inexpensive family fun in Thurston County. The weekly series focuses on family-friendly activities throughout our community. If you have a suggestion for a post, send us a note at submit@thurstontalk.com. For more events and to learn what's happening in Olympia and the surrounding area, visit our complete event calendar.