By Heidi Smith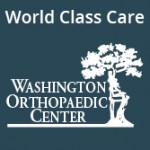 Driving through Yelm, you can't miss it: the big white building with the large Grecian pillars in front. Variously known as the Masonic Lodge or Gordon's Grange, for years it has remained mostly vacant, used only for occasional meetings or special events, and was slowly decaying from rot and neglect. But when Dan Crowe and Molly Carmody first walked into the historic edifice in the heart of Yelm, they didn't see the ancient carpet and layers of ingrained dust: they saw a law office.
"We looked at each other and said, 'We've got to have this place. This is going to be perfect,'" says Crowe. Now they're breathing new life into the old building, adding new office spaces, upgrading its utilities, and stripping away layers of old paint to reveal beautiful wooden flooring and wainscoting. In the ideal world, The Crowe Law Office will be moving in by Thanksgiving, says Carmody, but Crowe believes Christmas is a more realistic target.
The Lodge was originally built by the Freemasons in 1926 and used as a meeting space. In 2005 Kellie Petersen, owner of regionally renowned Gordon's Garden Center, bought it and renamed it 'Gordon's Grange.' It is listed on the Washington State Historic Registry as "Masonic Temple – Lodge Hall No. 244."  To keep the historic value, Crowe Law had to go through the city's historic commission to get their plan approved. That means they can make some changes but also have to keep original elements like doors and kitchen cabinetry.
From the start, the couple realized there would be work involved. Both have packed schedules, Crowe as the principal attorney at Crowe Law and Carmody as the firm's office manager, a member of Yelm's Planning Commission and now, a newly elected member of the city council. Since purchasing the property, in May, they've spent evenings and weekends scraping paint and stripping floors. Crowe's proudest accomplishment thus far is getting the 1920s era windows unstuck. "One man told me he hadn't seen those windows open for 50 years," he says. "There were multiple layers of paint."
The process of renovating the property has been a challenge. "Dan and I have done all of the paint stripping, all of the floors, and all of the painting ourselves. The next step is taking on the bathrooms," says Carmody. Crowe mentions that the upstairs carpets have been a particular trial.  "They've been here at least 40 years and I don't know if they were ever vacuumed," he says. "I've been doing nothing but cleaning this floor for the past few weekends, just trying to scrub it down to wood. We're probably going to get a sander in here and just blast it off."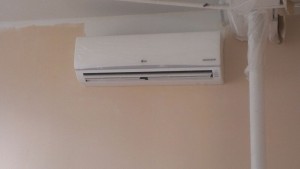 On the regulatory side, they've applied for three separate permits. "To start off we had to apply to the city for the site plan, to change the use from 'assembly' to 'professional office' space," says Carmody. Once the city approved the site plan, Carmody and Crowe applied for a building permit, which included a petition for approval from the Yelm Historic Preservation Commission, and finally they submitted a still-pending application for a civil plan permit. "The civil plan applies to the landscaping and any asphalt," says Carmody. "The building permit covers just the building." The site plan covers only the ground floor, she says. In order to add any new construction to the second story, they would have to go through the site planning process all over again.
When it's complete, the building will combine high-tech efficiency with historic significance. Crowe Law is installing ductless heating and water efficient toilets along with a high-speed ethernet. "I'm really excited about that because it's going to be kind of a state-of-the-art technology building, as much as possible," says Carmody. "In the civil plan, I'm asking for all deciduous trees on the northern side of the building so that we get the afternoon sun in the winter, but they will shade us in the summer. We've got some passive solar heating."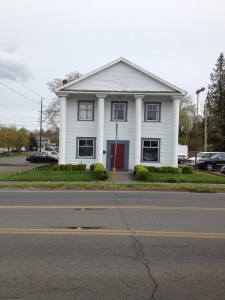 Both Crowe and Carmody believe that their efforts can have an impact throughout the business community. "I hope that people in Yelm would take a little more pride in the city and that it inspires more businesses to keep up their properties," says Carmody.  Yelm currently has a number of unoccupied or derelict buildings in need of maintenance, says Crowe.  "I'd like to see this act as a catalyst to help rebuilding downtown. There could be great businesses locating here and doing things for the history of the city. This could really be a vibrant community."
Moreover, their location could generate new customers for nearby businesses, he says. "If someone has a meeting with me, maybe they'll go next door to the Yelm Co-op and do a little shopping, grab some flowers at Gordon's Garden Center, or go across the street and grab lunch at Tacos Gaby or La Gitana," he says. "They're here already. They could walk across the street and spend a little money."
During this year's Christmas in the Park Parade, the pair plan to open the lodge for spectators to come warm up in the lobby area and drink hot apple cider. "We're really front and center," says Crowe. "The location is perfect for those kinds of events."
For more information about The Crowe Law Office, visit www.crowelawoffice.com or call 360.960.8366.