Submitted by Open Road Productions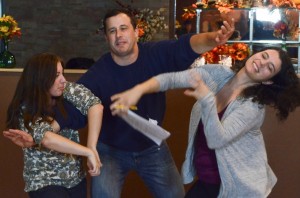 Pellegrino's Event Center in Tumwater is presenting an original, interactive musical murder mystery. The play, A Murder for Old Times' Sake, is the third collaboration between Pellegrino's and Open Road Productions, a local production company specializing in the creation, production and promotion of new theatrical works.
According to Jeff Painter, Open Road's director for the play, "The setting is a 20-year high school reunion. Long-held grudges and hopeless high school crushes bring out the worst in everyone. Matters are complicated when the most hated member of the class is murdered. It's up to the class of 1995 – cast and audience – to find the murderer before they can strike again."
Between acts, the actors circulate among the audience, who can ask them questions about the murder, and find out what secrets they're hiding. At the end of the show, the audience gets to submit their best guess, and the audience member with the best guess can win a prize.
During the course of the evening, Pellegrino's will serve a delicious Italian-inspired three course meal, including butternut squash soup, harvest vegetable strada, a choice of Tuscan Pork Loin or Parsnip Steak Marsala, and spiced apple kutchen.
Pellegrino's in-house mixology experts will also come up with amazing show-themed cocktails just for this event.
"These shows are a lot of fun, and unlike anything else you'll see in town," says Pam Pellegrino, owner of the event center. "Together with Open Road, we do our best to make it an evening to remember. As soon as one of these shows is finished, the audience asks 'when's the next one?'"
For Open Road Productions, part of the pleasure of working with Pellegrino's is getting to create and refine original work. Open Road Artistic Director and script author Andrew Gordon explains, "We first produced Old Times' Sake in 2012, and it was a good show then. It's much better now. We've made some big improvements to the script, but more importantly, added music, from composer Bruce Whitney and lyricist Daven Tillinghast, as well as a live band. The new songs are fantastic."
The show opens on Friday, November 13, and there are only four performances. Audiences won't want to miss out on this unique blend of live entertainment and fine food. Good seats are still available for all performances.
What: Open Road Productions and Pellegrino's Italian Kitchen present A Murder for Old Time's Sake
Where: Pellegrino's Event Center, 5757 Littlerock Rd SW, Tumwater, WA 98512
When: November 13, 14, 20 and 21 at 7:00 p.m.
Tickets: Visit pellegrinoseventcenter.com to buy tickets $45 for general seating, $55 for premium (front table) seating.