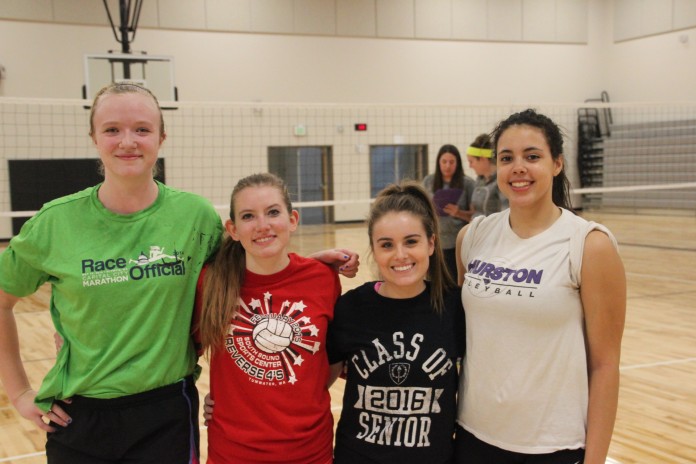 By Gail Wood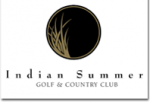 She's easy to overlook. At 5-foot-1, Morgan Stroud is usually the smallest player on the volleyball court.
But come game time for North Thurston High School's volleyball team, when that first serve sails over the net, Stroud magically turns into a walking, talking giant. As the Rams' libero, she's King Kong.
"She's the smallest player on our team but she has to be our biggest player," said Jackie Meyer, who is in her third season as the Rams head volleyball coach. "She covers the most court. She does a really good job of that."
Stroud, only a brief starter on last year's playoff team, is a "big" reason for the Rams success this season. Add Olivia Fairchild, a 6-foot-2 shot-blocking phenom with a knack for spiking game winners. And add Kailey Losey, the Rams' setter and queen of passing, and Alex Porter, with her knack for slamming kill shots. They all add up to an impressive team, one that finished the regular season at 13-1 and head into the playoffs.
But coming into the season, Meyer was only cautiously optimistic. Five starters off last year's team that finished seventh at state were seniors. There were a lot of unknowns about this year's team.
"We lost five starting seniors last year," Meyer said. "I knew I had some talent coming back. But I didn't know we'd come out as well as they did."
What's impressed Meyer – beside the team's record – has not only been this team's ability to play together, but it's their cooperative, get-along nature. During crunch time, when the match's outcome is on the line, this team pulls together. Tension doesn't divide them.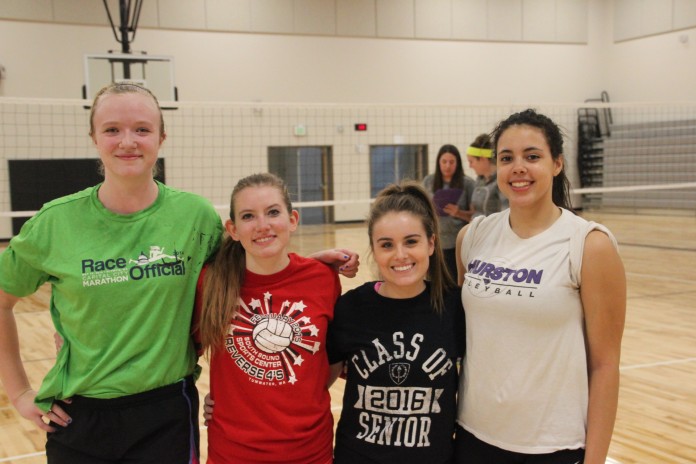 "They're phenomenal to coach," Meyer said. "They're a team. We do well because we're a team. It's not like we have these outstanding, super stars. They work together well as a unit."
That unity is born in after practice get-togethers the team has throughout the season. On Halloween, after North Thurston lost to Central Kitsap in the league tournament to get the No. 2 seeding into district, the team went to Meyer's house for a party. They ate and handed out candy to trick-or-treaters that came to Meyer's home.
"It definitely helps," Losey said about her team's get-togethers. "Because I know if there's drama or anything happens it will carry onto the court because of how much the attitude from the drama brings. But being a family, being able to come together, it helps so much."
The get-togethers are Meyer's cure for that divisive drama. Nobody wants to let down a friend.
In a lopsided win over Wilson earlier in the season, Losey had 37 assists and Alex Porter had 21 kills.
"That's a pretty phenomenal combo right there," Meyer said.
Losey and Porter were both second-team all-league players last year.
"Alex is an intense player," Meyer said. "If you need somebody to do something you can rely on Alex. She has the highest kill percentage in the league. She has very limited errors. She's a phenomenal, intense all-around volleyball player."
Fairchild, who was first-team all-league last year as a sophomore, is the designated rally stopper. She leads the 3A Narrows League with 50 blocks. She's a disrupter.
"She's a dominate blocker," Meyer said.
After losing five starters off last year's playoff team, Fairchild is surprised by her team's success this year.
"I didn't think we'd win as many games as we have and to be in the position we are," Fairchild said. "But I'm really excited about it."
Fairchild, like Losey and other teammates, is a year-around volleyball player. When the Rams' season ends, Fairchild will start playing for her club team, the Puget Sound Volleyball Academy. And next year when Fairchild's high school career comes to an end, she's hoping she hasn't played her last volleyball game. She hopes to get a college scholarship. And Fairchild, who has a 3.5 GPA, will likely get her wish. She's already being recruited by some major colleges. Last week on her birthday, she got a birthday card from the University of Wyoming.
Fairchild played basketball for nine years, but she now focuses on volleyball.
"It's just extremely fun," she said. "I love how everyone works together as a cohesive unit. I like the idea of family that comes along with it."
As the setter, it's Losey's job that Fairchild and Porter stay busy at the net. She's the coach on the floor.
"My responsibility is to talk to my players and tell them what they're going to run for that one play," Losey said. "I'm like the quarterback in volleyball. It can be hard at times. But it's really rewarding when you get that play down."
Last year as a junior, Stroud got her chance to audition for the libero when senior Liz Colon, who is now playing at Saint Martin's University, was out for a week with a mild concussion.
"So, we kind of knew she'd our libero this year," Meyer said.
Stroud has the personality and the physical skills to be a libero.
"They kind of have to be an intense person," Meyer said. "Morgan is an intense person."
And because of Stroud's intensity, Porter's and Fairchild's net play, and Losey's setting, the Rams are the surprise winners heading into the playoffs.