By Grant Clark

At the conclusion of the championship match between North Thurston and Central Kitsap at the 3A Narrows League volleyball tournament, the names of the players selected for all-league honors were revealed to the crowd.
Rams senior outside hitter Alex Porter figured she would end up on the second team.
North Thurston coach Jackie Meyer was the first to receive accolades, being honored as the league's 2015 coach of the year.
It did not end there for the Rams. The next announcement was for the league's MVP. Porter has done plenty of things right this volleyball season – predicting the seasonal awards is not one of them.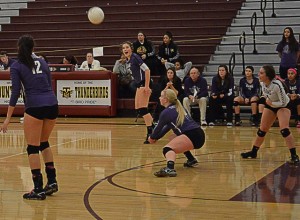 After leading North Thurston to a share of the regular season league championship, Porter took home the top honors as 3A Narrows League MVP.
"I didn't expect that at all," Porter said. "I thought I was going to get second team and that would have been cool. I didn't expect to be MVP. I never even thought I would be first team."
The Rams lost five starters from last year's squad which advanced to the state tournament. There were plenty of voids heading into this season and Porter filled a lot of them, an accomplishment that was not lost on the league's coaches.
"Alex is an old school athlete. She's just very intense, just a very focused player," Meyer said. "Some people might think she's not paying attention, but she's just a really driven, focus player."
Senior setter Kailey Losey and junior middle blocker Olivia Fairchild were both named to the first team, while senior defensive specialist Morgan Stroud and senior outside hitter Bayley Colombo earned second team and honorable mention honors, respectively.
The copious amount of awards helped ease the pain of dropping the league tournament title match to Central Kitsap (16-1). The Cougars won 3-1 (20-25, 18-25, 25-22, 16-25).
"The difference was they were hitting and we weren't," said Meyer, whose team split the two regular season meetings with Central Kitsap. "We didn't come out hitting like we normally do."
The Rams (13-2) never really seemed to find a groove during the first two games. The Cougars never trailed in game one, using a 9-2 run to grab a 24-14 lead. North Thurston was able to string together a 5-0 run of its own, getting blocks from Porter and Fairchild, but it only seemed to postpone the inevitable as a kill from Katie Thorsen gave Central Kitsap the win, 25-20.
Outside an early 2-2 tie, the Cougars controlled the second game from start to finish, using runs of 6-0 and 8-0 to establish a 22-16 lead before a Rams attack error ended the game, 25-18.
"We work more as a unit when we are talking and we just kind of fell flat today," Porter said. "I won't deny it. Central Kitsap was good today. They brought it. We just weren't on our game tonight."
North Thurston briefly got back on track in the third game, which featured 14 ties. Fairchild registered back-to-back kills to put the Rams up 22-19 and then ended it with her fifth kill of the game, giving North Thurston the 25-22 win.
However, the momentum did not carry over into game four, as Central Kitsap went on runs of 6-0, 5-0 and 9-1 to win 25-16.
The Rams will enter the 3A Southwest District 4 tournament as the Narrows League's No. 2 seed. They open district play against Sumner (8-7) at 3:30 p.m. on November 6 at Auburn Mountainview High School.
"We were the two seed last year and it worked out well for us," Meyer said. "We are going to play competitive teams at district and this was good practice. I like having this league tournament because you're not sitting around for two weeks waiting for districts to start."
The top six teams out of the district advance to the state tournament. North Thurston finished fourth in last year's district tournament.
"It's really good to be experienced because I'm not going into (the playoffs) nervous anymore," Porter said. "I know what to expect when I go out there. Some of the underclassmen weren't there last year. They don't know what's about to happen. The senior leadership is going to have to come in big and we are going to have to show them that this is serious now. League is over and if we want to make it to state again, this is the time we have to start pushing."
North Thurston is looking to advance to state for the third time over the last five seasons. The Rams finished seventh in state last year and were the state runner-ups in 2012.
"It basically started with the seniors last year. They kind of left a legacy for us seven seniors this year," Porter said. "We want to follow what they gave us last year because they got us to state. So, our goal when the season started was to get this year's underclassmen there too."