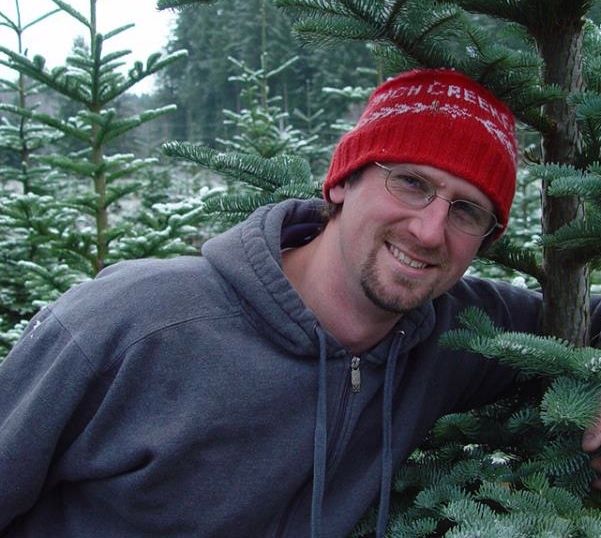 By Melanie Kallas Ricklefs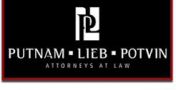 Every parent wants to raise their children to be responsible and productive, and to stay out of trouble. Len and Colleen Hunter wanted the same for their three boys, and their unique solution became a family business that has thrived for decades.
In 1980, Len and Colleen established Lynch Creek Farm, an organic vegetable farm where their children helped to plant, grow, and harvest vegetables. In the beginning, they sold their produce at the Shelton Farmers Market. In 1984, they moved to the Olympia Farmers Market, and you will still find their stall there today.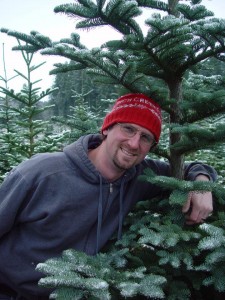 Lynch Creek Farm has evolved quite a bit since the early days. They no longer grow organic produce. These days they are taking time to stop and smell the roses… well, actually, the dahlias. They sell tubers in the spring and gorgeous bouquets in the summer and fall. Toward the holiday season, they turn their attention to evergreen products. They handcraft spectacular holiday wreaths that are not only beautifully decorated, but they are full, fragrant, and fresh from the forest.
The Hunters began making floral arrangements and holiday wreaths in the early 1990s. According to Andy Hunter, the couple's youngest son, "making wreaths was a very small part of what was essentially a hobby farm" started by his parents. Andy was a talented wreath maker right from the start, and he enjoyed creating new designs. When Andy came home from college, he jumped right back into the family business, and made wreaths his focus. "It seemed like a natural fit to take the wreath business to the next level," said Andy.
In 1998, Andy produced a color catalogue to advertise his wreaths, and started a mail order business while maintaining his stall at the Olympia Farmers Market. The mail order business was a success from the beginning, but Andy knew he had to take the business online if he wanted it to prosper. He elicited the help of his childhood friend, Michael Maddux, to create a website for his wreaths, and the business took off from there.
Today, Lynch Creek Farm sells enchanting wreaths, stunning centerpieces, decorative tabletop trees, garlands, and more. They offer unique products for Thanksgiving, Christmas, and Hanukkah. Whether you are looking to decorate your home or office, or to send holiday gifts to friends and family, you won't want to miss the handcrafted products at Lynch Creek Farm.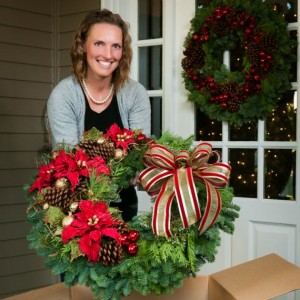 If you are like me, with family members scattered across the country, shopping for the holidays just got easier. Lynch Creek Farm ships their evergreen products free of charge anywhere in the contiguous United States, and they will arrive fresh and fragrant in a festive red box. You can even include a greeting card.
Lynch Creek Farm not only sells holiday gifts for individuals, but can also handle large corporate orders. If you want to let your clients or employees know how much you appreciate them this holiday season, Lynch Creek Farm will send the products of your choice to their doorsteps along with your holiday greetings.
If fundraising is a part of your holiday plans, Lynch Creek Farm can help with that, too. You can plan a fundraiser with no minimum orders, no cut-off dates, no product distribution, and no paperwork for you. The farm will ship wreaths directly to your supporters, or their gift recipients, while you sit home sipping cocoa. The best part of the deal is that the farm gives you 20% of each sale.
While the farm ships their products all over the country, they still embody the ethics of a small business. They are committed to making the highest quality products while maintaining the level of customer service you expect from a family business. Simply put, they love to make the holidays special for their customers.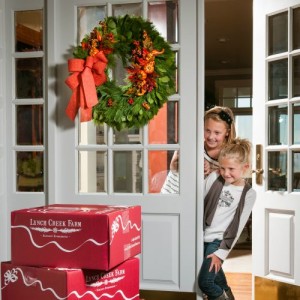 Lynch Creek Farm provides work for over 100 seasonal employees each year, including local high school students. What's more, the farm treats their employees so well, that many of them return every holiday season. Shannon Horsely, a dedicated employee at the farm, described the friendly atmosphere perfectly when she said, "It's like a big family."
One of the aspects of Lynch Creek Farm I admire most is their environmental ethic. They started as an organic farm before most people even thought about organics, and their evergreen products are made from sustainably harvested boughs. They never cut down trees to create their evergreen products. In fact, they encourage landowners to grow trees for boughs rather than clearing the land for timber. The trees continue to grow while providing boughs for the farm's evergreen products year after year.
Everyone loves to see a local family business succeed. Through a series of adaptations, and ingenuity, Lynch Creek Farm has not only succeeded, it has blossomed.
To learn more about Shelton's Lynch Creek Farm, visit their website at www.lynchcreekwreaths.com or call 888-426-0781.