By Grant Clark

It's a game of skill, agility and cunning, a game with one simple rule – dodge.
Dodgeball was never a part of PE during David Garcia's elementary or middle school years. So, when the opportunity to finally play the sport surfaced he jumped at the chance.
"I was probably 17 and still in high school," said Garcia, a 2008 graduate of North Thurston High School, about the first time he played the sport. "I wanted to do something other than football and I heard there was a dodgeball league right up the street from my house. I tried it out. I fell in love with it."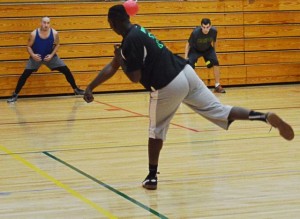 The experience, however, was short lived as despite its popularity, the Lacey Parks and Recreation Department elected to discontinue the league shortly after Garcia was introduced to the activity.
"There was at least 11 or 12 teams playing back then so there was a good turnout," Garcia said. "It just happened so fast. It was just a bummer for the teams that were doing it every year to see it go away."
In 2012, the dark days ended when Garcia decided to bring dodgeball back to Thurston County. All it took was a quick conversation with Lacey Parks and Rec and Garcia was soon spearheading the formation of the Pacific Northwest Dodgeball.
Now in its fourth season, PNW Dodgeball has seen turnout grow every season since its return.
The league plays 6:00 p.m. on Sundays during the fall at Komachin Middle School.
The season, which started on September 27, runs 12 weeks. The league is an open co-ed division, for anyone 16 years and up. Each team will play every team once throughout the regular season. The final two weeks of the schedule are set aside for the playoffs with the championship team being awarded $500.
"When it comes down to playing for money it gets pretty intense," Garcia said. "A lot of the main teams have been playing together for the first couple years, but we are always accepting new teams and new players. Normally when people first show up they are surprised to see it's actually an officiated sport. It kind of throws them off a bit. That's why when they are first starting out we don't charge them for the first week. Everyone just has to sign their waivers and see if they like it."
Each game starts out with six players on a side. Players are eliminated when they are either hit by a ball thrown by an opposing player or when an opponent catches an opposing player's ball when thrown.
"We encourage teams to have at least 12 players because if you catch the ball you get to add another player and you can have up to eight players on the court," Garcia said. "The more players you have in your corner the better off you will be. Games are 20 minutes long. Whoever wins the most rounds during that 20-minute match wins the game."
There is always one stigma associated with dodgeball that Garcia is usually shooting down when pitching the sport to newcomers.
"Dodgeball has this undertone to it where people view it as violent. I didn't realize that until I did a booth at the Lacey Spring Fun Fair," Garcia said. "We had hundreds of kids wanting to play and only a select few parents who were saying, 'Let's get my kids into dodgeball.'"
Unlike other sports where injuries are a common occurrence, no significant injuries have taken place during any of the league's four years, according to Garcia.
The teams play with gator-skinned foam dodgeballs – contrary to the unforgiving rubber balls many of us may remember from our grade school dodgeball years.
"It will knock the spit of your mouth," Garcia said about the foam balls, "but you're not going to get a bloodied and broken noses or anything like that. It's like not rubber balls."
Garcia plans to organize additional seasons throughout the year, with the next one beginning in February followed by a summer season.
"We're not turning teams away. The league got to a point where it got really competitive. The veterans that were playing since the beginning stuck around. And they knew how to play. It's a really sharp learning curve with the rules and everything," Garcia said. "Now we are to the point where we are encouraging more teams to show up. So we split up a lot of veterans and placed them on different teams as captains."
For more information you can visit PNW Dodgeball's Facebook page or contact them at pnwdodgeball@gmail.com.
"It's been going strong," Garcia said. "We don't advertise it. It's really just been word of mouth."