By Grant Clark

When the jogging craze swept through the nation in the late 1970s, Steve Collins, who had never been much of a runner prior to that, decided to give it a try.
For many, the fad lasted a couple weeks at best, only to be revisited occasionally, usually coinciding with New Year's Resolutions.
But for Collins, 67, it was anything but a passing phase.
Four decades of hard work later and Collins joined more than 6,500 of the world's best athletes in Chicago in mid-September to compete in the 2015 ITU World Triathlon Grand Final and World Championships.
Collins finished 14th overall and seventh among United States competitors in the men's 65-69 division of the Sprint World Championships with a time of 1:23.21. The event features a 750-meter swim, 20K bike ride and 5K run.
"It wasn't as good as I had hoped," Collins said. "It was a very hot day, 85 degrees with the humidity around 80 percent. I did great in the swim and it was my fastest ever bike, but my run was 4 minutes slower than it usually is."
Collins clocked in 15:13 in the swim – placing him 10th overall. He was equally strong in the bike portion of the event, finishing 11th in his age group in a time of 32:27.
Hopes of a top 10 overall finish ended, however, when he stopped the clock in 27:20 in the run, good for 19th place in the event.
"At the start of the bike ride, I lost my water bottle. It was a pretty bumpy road and it flew right off," said Collins, who works as an indoor cycling instructor at Lacey's LA Fitness after retiring from the Washington State Department of Corrections. "I didn't have any fluids in me for the run. I normally do well in warm weather, but (not having water during the bike ride) made it very difficult."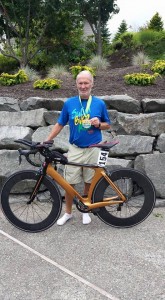 The division was won by Australia's Robert Pickard (1:15.14). A total of 49 athletes – 21 from the United States and 28 other competitors from nine different countries – competed in the men's 65-69 age division. Peter Hoyt (1:15.57) was second overall and the top placing United States athlete. Collins' final combined time was less than a minute from finishing in the top 10 and 3:20 from placing him among the top 5.
He qualified for the world championships by placing 11th (1:18.21) at the 2014 USAT National Championships in Milwaukee.
The Chicago event concluded the 2015 ITU World Triathlon Series. The 2016 series, which features nine races, begins on March 4 in Abu Dhabi. Collins has already qualified for the 2016 ITU World Triathlon Grand Final in Cozumel next September.
He punched his ticket to Mexico on August 9 by finishing seventh in his division at the 2015 National Championship. His overall time in the three events was 1:17.13.98, finishing the swim in 14:39.24, the bike in 35:02.00 and the run in 23.12.86.
"Overall, it was a great experience," Collins said about his performance in Chicago. "It was my first time competing at the world championships. I am really looking forward to next year in Mexico."
Before Collins, a 1967 graduate of Olympia High School, heads to Cozumel, his next big trip will take him to Cuba for the 2016 Habana CAMTRI Sprint Triathlon American Cup and Iberoamerican Championships in February.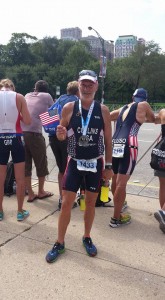 The 2015 edition of the event marked the first time American triathletes competed in the country as a total of 17 elite and age group athletes from the United State were cleared to travel to the event. That group joined a list of less than 250 Americans who have competed in athletic competitions in Cuba since 2007.
Collins will be among a select group of Americans participating next year.
"This will actually be my second time going to Cuba," said Collins, who ran his first marathon in 1980 and his first ironman in 1984. "It was amazing the first time. My wife Lourdes is Cuban. So, this trip will also be a family visit for us."