By Heidi Smith
How can a simple thing like a sports physical exam change lives? For one Tumwater foster mother, it made all the difference in the world. "She had five kids," says TOGETHER! Deputy Director Meagan Darrow. "Three boys had just arrived at her house and she knew that sports would be a factor in them engaging with school and making friends."
TOGETHER! collaborated with the Tumwater School District (TSD) and medical professionals to put on a back-to-basics health fair in August, providing free sports physicals and immunizations so kids could access after school activities. "This particular mother showed up, all five kids got immunizations for free, and then those three kids were able to get their sports physicals and sign up for sports that day," says Darrow. "She said that through the state system, it would have been a three-month wait."
The health fair opened the door for a flood of low-income students to get more involved in school. Although TOGETHER! Community School Coordinator Jennifer Gould was aware there was a need, she was amazed when 220 families showed up. "We did immunizations for five hours and sports physicals for three hours," says Gould. "We had a line out the door before we even started."
One of the major risk factors for dropping out of school is poor attendance – and youth engagement in activities like sports, music, or volunteering plays a major role in preventing substance abuse and other high-risk behaviors. The health fair was a great example of community partnerships Gould has been working all year to create. Tumwater School District works with TOGETHER! to implement a community schools approach in their district, which increases student engagement and community/school partnerships. Her role is supported by a grant and the Tumwater School District whose purpose is to reduce the dropout rate among seventh through tenth-graders in the district.
"Low income students make up the vast majority of that small percentage that are dropping out," says Darrow. "A lot of what the coordinators are doing is going to the community and saying, 'Let's rally around these kids,' helping them with the social support and not just the academic support."
For the health fair, volunteer medical professionals from Providence Tumwater Valley Physical Therapy, Providence St. Peter Family Practice, Surgical Associates, Olympia Orthopaedic Associates, and Thurston County Medical Reserve Corps donated their time. "They were amazing," says Gould They came in after a full day of clinic and they were here until 8:15 p.m. on a Tuesday night."
Dr. Tracy Hamblin, who specializes in Sports Medicine with Olympia Orthopaedic Associates, was one of the volunteers. She believes such events serve a critical function. "This is a chance for kids who don't have a provider to touch base with a medical professional," she says. "It opens up the idea that they might want to get in touch with someone. For parents, this is a really quick and easy way to provide a service they need."
But families aren't the only ones who benefit, Hamblin says. "I love meeting all the athletes. During the season I'm usually on the sidelines of their games. This is a really good opportunity for me to get out of the clinic and into the community in a different environment."
Throughout the year, Gould has worked with other community groups to fill the needs of her students. "We've done a lot of great work with YWCA of Olympia," she says. "They typically do a program for girls when they have to go through the juvenile justice system. We said, 'Let's open this up before that happens. We'll help you find the right students.' We found a group of girls for them to work with and it was highly successful. Hopefully we're going to continue to build on that relationship."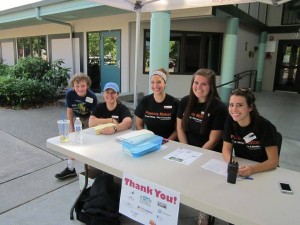 Another partner has been YouthBuild, a program that teaches low-income students construction skills to create affordable housing and other community buildings. When Gould and her team invited YouthBuild leaders to the district, they were surprised to discover that many of them were students.
"We asked them how we could find the right students to refer to them," says Gould. "What I loved about it was they brought their youth, so my counselors and administrators who hadn't fully understood walked out of the meeting saying, 'I know what this service is.' Immediately we had two or three referrals."
Gould says a lot of what she deals with are basic needs. "Kids know that they can stop by and get stuff," she says. "I don't ask a lot of questions. They know that during the year if there's something that comes up, they can get things at school to help support their academics and even their home life. I've got shampoo and conditioner and we just send it home."
She remembers one student who came to see the school nurse. "He said, 'Can I get some duct tape?' The nurse said, 'Why do you need duct tape?' He turned his shoe over and it was full of holes. The kid didn't ask for shoes; he asked for duct tape. She said, 'You know, we can get you shoes.' We got him new shoes. To me, that lets him know that school is a place that is going to support him – shoes, duct tape, whatever you need."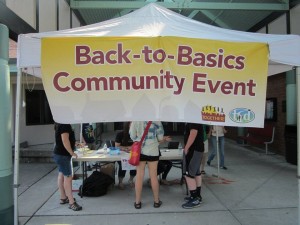 Getting that message to families is crucial, she says. "I want school to be a welcoming place for them. I don't want school to be scary for parents. Who knows what kind of history they have with school in general? I just love seeing parents recognize that school can be a place where their kid can thrive and find things that they're interested in and we can take care of basic needs."
Because the program is just starting its second year, it's too early to tell what impact it's having on graduation rates, but attendance is up across the board. "Within both the middle school and the high school, it's increased," says Gould. "That tells me that students are more engaged with their education."
Ultimately, she says, "Kids are changing their perspective on school. I want them to be able to go out into the world and be connected and know that they can be supported in their goals and what they want to do."
TOGETHER! is celebrating 26 years of community programs with the Hats Off to TOGETHER! Gala from 5:00 p.m. to 7:00 p.m. on Friday, September 25 and the Governor's Mansion. Tickets cost $75 and are available by clicking here.
For more information about TOGETHER! visit www.thurstontogether.org or call 360.493.2230.