By Grant Clark

McKoy Bichler does a little bit of everything for the Rainier High School football program. On offense, you can start him at either quarterback or running back. It doesn't really matter – he's going to pick up yardage one way or another.
Need a kick returner on special teams? He's your guy. Have a void on the defensive side? He can play a variety of positions.
Yes, last year's 2B Pacific League Offensive Player of the Year can find success on the football field no matter where you plug him in.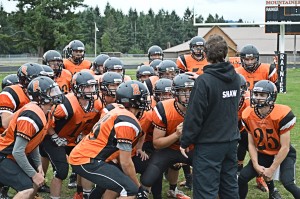 Heck, the versatile senior could probably sing the National Anthem prior to kickoff if called upon.
Bichler would be the first to admit, however, he's hardly a singer. But if they were really in a pinch, he would step up. And the best thing is he wouldn't have to look very far to find the perfect singing instructor. All he would have to do is turn to his football coach.
Terry Shaw is a contradiction. Not only is he the Mountaineers head football coach, he also teaches choir at Timberline High School – a seemingly odd combination. He's detailing how to defend against the Wing-T offense during one part of his day, while serving up breathing exercises during another.
And he's exceling at both of them.
"The first time I heard (he coached football and taught choir) I am not sure I believed it," Bichler said. "It seems like two completely different things."
On the surface, it definitely appears that way, but when you talk to Shaw, it all makes sense.
"They are actually very similar," said Shaw, who also teaches weight training at Timberline High School. "It's a team working towards something together. It's a game in football, a concert for choir. There's always going to be sub-groups within that team, but the goal for everyone is to be our best selves."
Shaw had two passions growing up – music and football.
He took up the piano and began playing at his church at a young age. By the time he started high school, football entered the scene.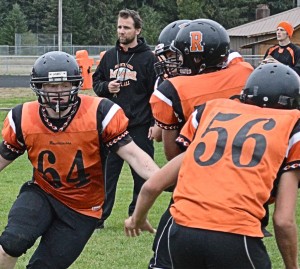 A 1995 graduate of Bellarmine Prep, Shaw was recruited to play football at Central Washington University, but elected to go with the music route, eventually earning a music education degree from Pacific Lutheran University.
"Music won out," said Shaw, who also earned a Masters of Music degree from Boston University in 2007, "but I knew with teaching if I wanted to coach, that would always be something I could do."
It was during his junior year at PLU that Shaw formed the Olympia Choral Society in 1998. The goal was to create a community choir with a focus on giving back to local charities. It started with just 17 singers. It now features nearly 100.
"We offer free concerts. We do a lot of fundraisers," Shaw said. "We figure it doesn't cost us anything to open our mouths and sing."
Since making its first donation in 1999, the OCS has donated more than $150,000 to local charities, many of which benefit children in the South Puget Sound Area and, beginning in 2003, includes an annual scholarship program for South Sound high school seniors who intend to study vocal/choral music in college.
He found similar success when he started at Timberline in 2001. Back then the school had two choirs with 37 students. Under his tutelage, the program has since grown to six choirs with more than 180 students and has performed all over the county, including performing twice at Carnegie Hall.
It seems Shaw makes an impact on a program wherever he goes. It's been no different with Rainier football.
The year prior to Shaw coming aboard, the Mountaineers won one game. They were shutout four times and had games where they gave up 52, 62, 63 and 70 points.
Bichler, a freshman back then, can remember teammates quitting midseason out of frustration.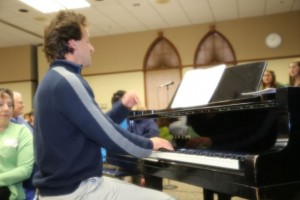 "No one wanted to be a part of it before," Bichler said, "but since Coach Shaw took over, people are excited about Rainier football again."
Shaw injected some much needed enthusiasm into the Mountaineers. As expected, things started slow. The team won three games in 2013 before going 6-4 last year – the team's first winning season since 2008.
Things have continued to ascend this year as Rainier is 2-0 on the season, having defeated South Bend (58-20) and Kittitas (34-6).
"A lot of our starters were freshmen and sophomores when we began. They've now been under this system for two years," Shaw said. "When we started, we told them if they were willing to buy in and willing to work hard, we wanted them around. And they've done that."
The Mountaineers haven't made the state playoffs since 1992 when they lost in the 2B state championship game to DeSales. Despite a 23-year hiatus from the state playoffs, Shaw has the squad hitting all the right notes early on in the season, causing the players to believe history could repeat itself.
"Alec Miller, one of the seniors on the team, his dad was a running back on that Rainier team that got second in state," Bichler said. "It has us thinking déjà vu."
As gifted a teacher Shaw is, one wonders what it would be like if he started to mix and match his students.
Could he teach some altos cover-2? Or perhaps turn his front seven into a jazz vocal choir?
"He's tried before to teach us how to hit those high notes," Bichler said.
And how did that go?
"I'll stick with football," Bichler said with a laugh.