By Grant Clark

Thomas Pier briefly pauses before answering, giving each question he's asked thorough consideration. His responses are well-thought out, providing plenty of detailed insight.
Then the Tenino High School senior is asked what he thought the first time he saw the single wing offense. There is no beat before replying. His words are out the moment the question is finished being asked. It is obvious Pier does not need time to arrange his retort.
"It's weird," Pier blurted out.
There was no filter. It was an honest response.
"I was kind of concerned," Pier continued. "I didn't know how it was going to work."
And rightfully so, given the time frame. If Pier was playing football pre-World War II he would be completely comfortable with the offense as most teams ran it back then. In today's gridiron world, however, it looked foreign to the Pier.
Odd at first, yes, but it certainly didn't take Pier long to warm up to things.
"After that first game though, I loved it," Pier said. "Once we got the ball rolling it was pretty easy."
In the Beavers season opener last year, Pier rushed for 336 yards and two touchdowns on just 13 carries – good for a gaudy 25.8 yards per carry average. You'd be lucky to post those types of numbers playing a video game, set on the easiest mode.
"The best running backs you don't really coach," said Tenino head coach Randy Swilley. "They just have it. You can teach cuts and things, but they just have to do it. And Thomas does. He has a lot of natural instinct. I knew he would be really good in this offense."
When Swilley took over the Tenino football program last year he brought with him the single-wing formation – a run-dominated offense featuring three running backs and dual tight ends. It is equal parts misdirection and power football, and if executed properly a headache for opposing defenses.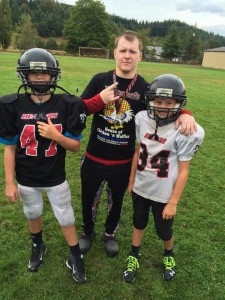 "It looks complicated to run," Swilley said about the offense, "but once you know what you are doing it's actually pretty simple."
Pier and his teammates have made it appear that way through the first two games this season – hammering Charles Wright, 40-19, on Sept. 4 and knocking off Castle Rock, 39-27, on Sept. 11.
"It takes some time to learn all the secrets," said Pier about adopting the Beavers new offense last year. "We have a full season under over belts now. Everyone is confident running it."
That comfort has grown so much over the past year that when Pier is carrying the football now the expectations throughout the team have become extremely elevated.
"Last year we averaged 7 yards a carry for the year," Swilley said. "The team would get kind of disappointed when we only gained 4 yards on a run. We would tell them how great that was, but if Thomas didn't get 9 yards they would wonder what they did wrong."
Tenino started last season in similar fashion, winning its first two contests before dropping three consecutive games and four of its next five to end the Beavers state playoff chances. A successful off-season campaign, including a record turnout in the weight room, however, has drastically changed the team's outlook.
"We challenged these guys in the spring to either get on the bus or don't," Swilley said. "And, thankfully, they got on the bus."
This was a scenario which may not have occurred the years prior to the arrival of Pier and his fellow seniors at the high school.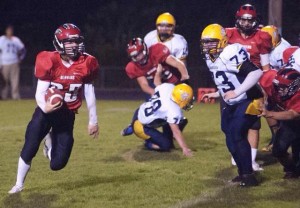 "It's a lot different around here from when I was younger," said Pier, a four-year starter. "The culture is really different. Everyone expects to win now, not just compete. I heard stories about when my brother played. There are players going into the locker room at halftime and they're talking about what they're going to do after the game."
Pier finished with nearly 1,700 yards and 19 touchdowns a year ago, but is quick to point out the team failed to accomplish its main goal of returning to the state playoffs and immediately brushes the mention of individual statistics aside.
"That's all that matters," Pier said about the team approach. "We came in ready to get to work this season. The seniors and juniors are now pushing the underclassmen. We're hoping to get a tradition going. We want to leave a mark."