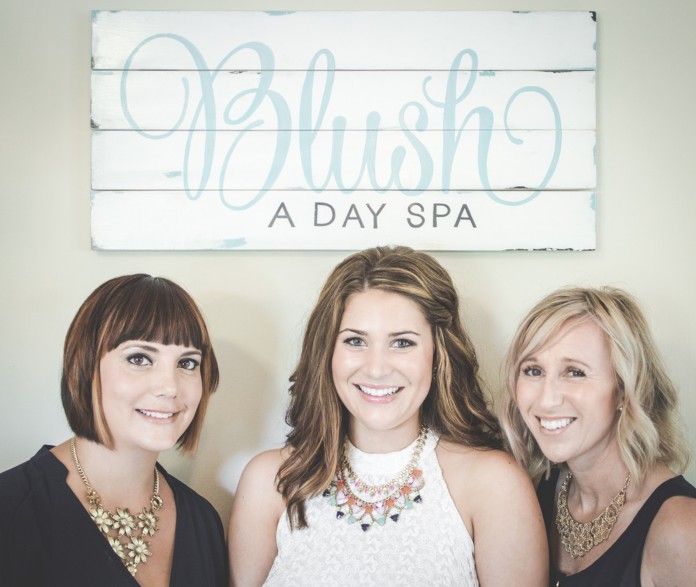 By Kelli Samson

It gives me a thrill to introduce you to Blush Day Spa, Olympia's eastside lap of luxurious pampering. Located in a charming, three-story home just off of Fourth Avenue, it's inviting right from the start. The entire property is shaded by stately trees, and visitors are greeted by a chalkboard boasting a sweet welcome via some fancy hand-lettering.
Stepping inside is like stepping into the living room we all wish we had at home, where everything is tidy and un-touched by little hands. The curtains are gauzy and let in diffused sunlight, the furniture is a mix of shabby chic and plush elegance, and the mantle boasts framed photos of all of the employees. The products are colorful and artfully displayed, soft music is playing, and somewhere a candle deliciously burns. A cup of tea is offered, and not a care can touch you now.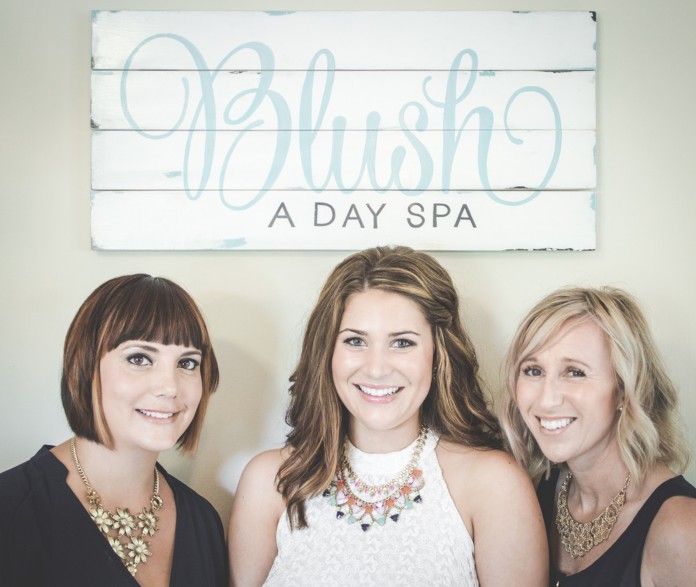 This is just how the owners who have thoughtfully crafted Blush want you to feel.
Blush is owned by a triumvirate of sassy, sweet women: Andrea Aiken, Rashelle Barney, and Stacy Feneide. They met while working together at Alderbrook Resort and Spa. Aiken and Feneide are originally from Westport, and Barney is from the Bothell area.
Barney was studying to become a teacher when she stumbled into esthetics. "I fell in love with it. I do have my instructor's license now, so that kind of combines the two areas," she says.
Aiken also began with a different career in mind. "I went to Eastern Washington University to study business and marketing, but I was bored out of my mind," she shares. "I was working as a receptionist at a salon and got my first facial. I realized I really wanted this for a career. I was always into skin care and would do my friends' makeup in high school. Half way through college, I told my parents I wanted to leave for esthetician school."
Feneide, too, came upon her career as a manicurist "kind of by accident. A friend of mine did hair, and we wanted to go into business together, so she talked me into it. It was totally on a whim," she recalls. "I love it. I never feel like it's work."
When the three first entertained going into business together, they imagined a space with a room for each of them to conduct their businesses of waxing, polishing, and skin care. What they couldn't dream of then is exactly what Blush is now: a spacious, thriving business with numerous practitioners who are experts in gifting their clients with a little bit of bliss.
"We all individually still have our own businesses, but we own Blush together. We never really meant for it to turn into what it did. We were looking for a space with three rooms, but we ended up falling in love with the character of this old building," recalls Aiken. "Stacy does a lot of the refinishing and decorating here. She's super crafty."
Currently, all of the practitioners are women, but "we are not against having men work here," they laugh. "We definitely have a lot of fun. We work with a great group of girls," smiles Feneide.
Each practitioner is available by appointment only. However, the front desk is consistently open Tuesday through Friday from 10:00 a.m. – 5:30 p.m. Services offered by the ladies at Blush include just about everything but hair: airbrush spray tanning, lash extensions and tinting, massage, manicures and pedicures, skin care, waxing and sugaring, body wraps and peels, and makeup application. They welcome individuals or groups.
Blush boasts not only the Best Mani and Pedi in the Olympia area (King 5's "Best in the Northwest"), but also spa coordinator extraordinaire, Kerri Turner, recently qualified in the top 25 in the Ms. Veteran America pageant. They carry the Eminence Organic Skin Care product line, which is coveted, organic, and "kind of like a raw food diet for your skin," says Aiken. Other product lines of note are Baby Foot, Billion Dollar Brows, Love and Toast, Farmhouse Fresh, and organic tea from Flying Bird in Bellingham. Nails are done with CND shellac polish.
"The first thing we honestly look at is packaging. Will it look cute? And then we see if we like the product," laughs Feneide.
Blush is about to celebrate its second anniversary, and things just keep getting better. They're in the process of getting their liquor license. Aiken has recently welcomed a new addition to her own family, just as the spa has welcomed esthetician Chelsea Kelley.
"I'm so excited to be waxing full-time with the amazing group of talented women at Blush. It's exciting and easy to thrive off an inviting environment like this, where customers are the top priority and everyone truly loves what they do," explains Kelley.
They recently added to their space with what was formerly an upstairs apartment. They've been busy connecting it to the main floor and configuring the space to serve as a relaxation room, a bridal/makeup area, a room for skin care, and a room for massage.
Plans for a grand re-opening party are in the works for September 10, complete with drinks, appetizers, and goody bags. Mark those calendars, because you won't want to miss out on the fun.
We're only about halfway through the summer. Schedule yourself some time to refresh those toenails, touch up the spray tan, or get a much-needed massage after all of that time with the kids home from school for the season. You know you deserve it.
You can learn more about Blush on their website, Facebook page, Twitter feed, or Instagram.  Call 360-352-7072 to schedule an appointment.
Blush Day Spa
1702 4th Ave. East in Olympia