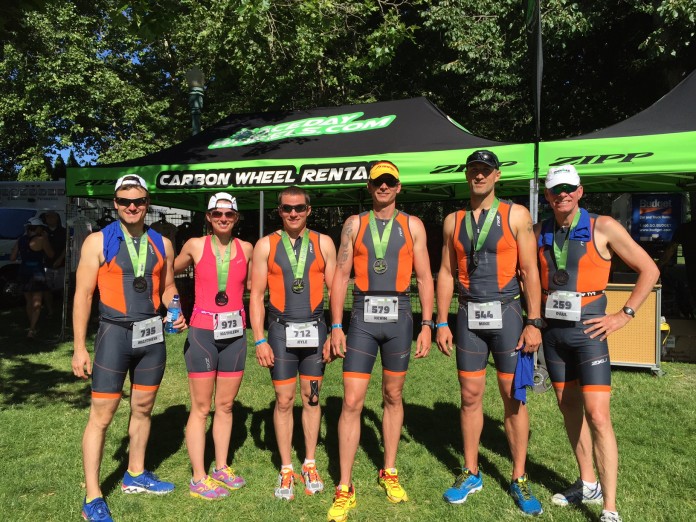 By Grant Clark

It all started with a jog.
Actually, make that a walk, albeit a brisk one with the occasional trot thrown in for good measure.
Nine years ago, when Kathleen Landwehrle Roberts was visiting home during her freshman year of college, she asked her dad, Paul Landwehrle, to go for a run with her. It took some convincing. He had always been active, but lately the couch was more to his liking. Throw pillows currently offered the sanctuary and escapism physical activity used to provide.
"She was persistent about it," Paul said. "And finally I agreed,"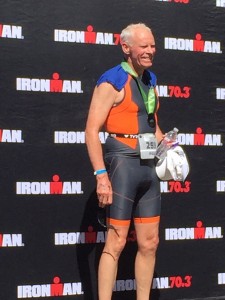 Paul, who had retired from the Air Force before moving on to work for Intel, best summed up the casual jog as a struggle, at least for him. Brief movements of running were followed by extended periods of walking.
It was strenuous. It was joyless. But above all that, it was a start.
Now where is he at? Heading to Whistler, British Columbia with the entire family in tow to take on the IRONMAN Canada – a triathlon event on July 26 featuring a 2.4-mile swim, 112-mile bike ride and 26.2 marathon. It draws competitors from all over the world, enticed by the 50 qualifying slots it receives into the 2015 IRONMAN World Championship in Kailua-Kona, Hawaii.
Marino Vanhoenacker of Belgium won the event last year, finishing with a combined time of 8 hours, 16 minutes – or a touch longer than the average standard workday or the recommended hours of sleep we're informed to get each night. A total of 226 individuals did not finish – more than 10 percent of the field.
Approximately 2,000 athletes will challenge the daunting course this year – among them will be 60-year-old Paul Landwehrle.
However, he will not be going at the course alone.  He will be joined by sons Kevin and Kyle, son-in-law Matt Roberts, and daughter Kathleen, who could be labeled the instigator of this avalanche of athletics when she simply dragged her father out of the house one warm evening for what seemed like an innocent stroll around the neighborhood.
"I was sick of seeing him not be active," said the 28-year-old Kathleen, who is a nurse at Harborview Medical Center in Seattle. "And he gets crazy and goes and does a marathon."
A total of 20 people will make the trip to B.C. for the event, including Paul's wife Denise, who has a half-marathon on her resume, and son Keith. Some will participate. Those who don't will offer the much-needed motivation.
"The support from our family has been the biggest help," said Kyle, 32, a fireman with the Lacey Fire Department. "It's inspiring. We're all pushing each other."
The Landwehrle troop do head into the competition with some insider information.  They will have the benefit of having one of their own successfully complete the event. Kevin, participated in his first Ironman in 2013, crossing the finish line in just under 13 hours.
"They definitely picked my brain once we decided to do this together. I started getting a lot of texts from everyone," said the 34-year-old Kevin, an officer with the Lacey Police Department. "I got a lot of questions, mostly about nutrition."
It was Kevin who initially sparked the idea of the Ironman to Kathleen. Towards the conclusion of the 2013 Seattle to Portland bike race, he casually informed his sister she would be capable to accomplishing such a feat.
The wheels immediately began to turn. She was game and not long after, turned into a family affair.
And while the physical trials have now been increased, the Landwehrles, who also did the Boise Half-Ironman together, have a lengthy history of family involvement with sports.
"We've always been an active family." Kyle said. "Growing up we would snow ski and water ski as a family. My dad and I do white-water rafting. It seems like we've always done things together. We've very fortunate for that."
Training began last October. The physical part was difficult – increased running, added time on the bike and in the pool, but the juggling of everyone's schedules proved to be the most tasking.
"(The training) has been rough on all our families. It takes away a lot of the free time you would be spending with them," Kevin said. "When you take on that training lifestyle, everyone in your house takes on it as well. It's a minimum of 24 weeks, around six months to get ready for this."
As the lion's share of their training began to tail off, one of their final major training obstacles was running in the Capitol City Marathon in May.
Paul and Denise ran the half-marathon – a race Kathleen originally signed up for before a conversation with her brothers convinced her otherwise.
"It was five minutes before registration closes and they tell me they're running the marathon," Kathleen said. "Up until that point I thought everyone was doing the half-marathon."
Some good-natured sibling prodding followed before Kathleen doubled down and elected to join her brothers. It would be her first marathon.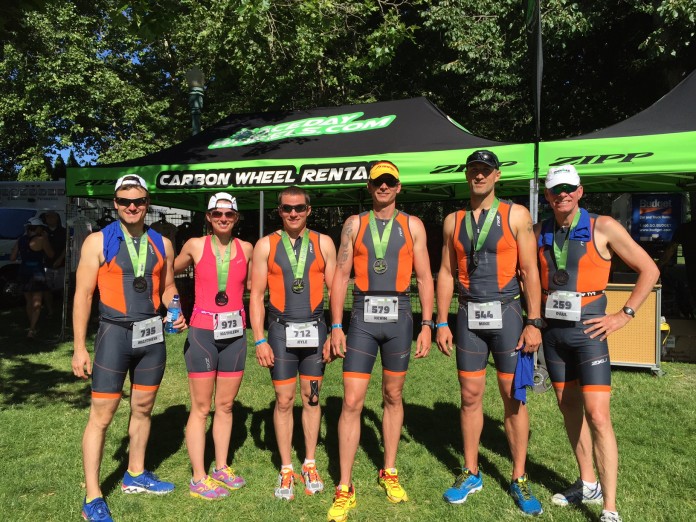 Kyle stopped the clock in 3:37.29, while Kevin finished in 3:42.16. In between the two was the younger sister with a time of 3:41.17 – placing her eighth overall among female runners.
"I was ahead of both of them until around the 20-mile mark when suddenly they caught up with me," Kathleen said. "I have Kevin on my left and Kyle on my right, both are encouraging me. You need that during those last miles."
Once the Ironman is officially off the family's to do list, one wonders what Paul has in store for the family next.
"What will he do after this?" Kathleen asked. "Probably something crazy."