By Grant Clark

It's one of the most recognizable traditions among all international sports – the Haka. It's the iconic trademark of New Zealand rugby. A pre-match war dance designed to intimidate the opposition.
And it's having the reverse effect on Kelsi Stockert.
"I'm a couple meters away and I'm watching the intensity in their eyes. They're singing their hearts out," said Stockert about her recent match as a member of the United States national team against New Zealand. "It's inspiring. All I can think about is how this is where I've always wanted to be."
It's been a whirlwind summer so far for Stockert. And one of the biggest realizations is how badly she needs a passport.
Stockert, a 2011 graduate of Tumwater High School, opened June by traveling to Virginia to participate in the inaugural National All-Star Competition – a week-long event put on by USA Rugby with a goal of selecting players for the national team.
More than 200 of the nation's top rugby players were invited.
Stockert was one of the few who flew home with a luggage full of USA Rugby gear.
Two weeks later, she finds herself in Calgary, Alberta playing for the US National Team – known as the Eagles – in the Women's Super Series against the likes of England, who are the reigning world champions, Canada and the aforementioned New Zealand squad.
"In a matter of a month it seemed as if all my dreams came true," Stockert said. "It's been unbelievable."
Stockert's rugby story begins about a decade ago when a friend convinced her to "just try it once."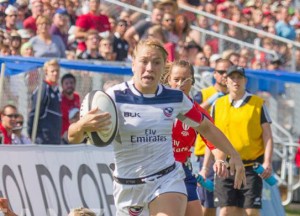 She already had the pedigree for the physical side of the sport – credit older brothers and a childhood filled with "roughhousing" for that.
She did all the sports leading up to that moment – volleyball, gymnastics, track. Heck, she even wrestled her sophomore year of high school. But one seemingly innocent trip to a Budd Bay Rugby practice changed everything.
"I was planning on doing track that spring, but the moment I tried rugby, I dropped all the other sports," Stockert said. "It was such a different sports environment than what I was used to. All you have out there is your mouth guard and your teammates to protect you. It truly is a family."
Stockert, who was also a cheerleader at Tumwater High School, rose through the ranks of Budd Bay, starting out with the Steelheads, the organization's U19 team, during her high school years before advancing to the Bandits, Budd Bay's women team.
"She always gave 115 percent at practice and more during games," said Dan Smith, President of Budd Bay RFC, when describing Stockert. "She rallies her teammates to work harder and support each other – always giving a nod of encouragement when it's needed most."
Eventually, Stockert moved on to her current team, the Seattle Saracens squad. This decision significantly altered her travel schedule as she now frequently travels up and down I-5, logging 700 miles a week in the process.
Days usually begin at 4:30 a.m. when she makes the trek north to train with the Seattle Saracens. Then back south for her day job in Olympia at Budd Bay Promotions and Apparel, followed by some more training at night and matches on the weekends.
"It's been worth it. To finally see everything pay off, it's completely been worth it – a dream come true," said Stockert, who juggles the rugby schedule while also being a mother to 3-year-old daughter Lily. "I'm incredibly lucky to have such a great support system behind me – my family and my adopted rugby family. I couldn't do any of this without them."
Stockert was one of six Seattle Saracens players invited to the USA Rugby National All Star Camp at James Madison University in June. It marked the biggest gathering in USA Rugby history for the Women's National Team with the lone goal of determining the nation's elite players.
"When I went there I just was excited to have the chance to train with the top athletes in the nation," Stockert said. "The last night the coaches pulled me aside and told me I was selected for the national team."
Elated, Stockert accepted. And then it dawned on her.
"I don't have a passport," Stockert said. "All I had was an enhanced license. I had to drive up to Vancouver and cross the boarder there and fly to Calgary. I need to get a passport."
She certainly does especially considering her plans over the next few years which involve making the US National Team for both the 2016 Summer Olympics in Rio de Janeiro, Brazil and the 2017 World Cup in Ireland.
"Kelsi will make an impact on any team – on and off the pitch," Smith said. "She's a strong and intelligent athlete, a dedicated teammate and a tremendous mom. When Kelsi's around, she raises the bar and we have to keep up."