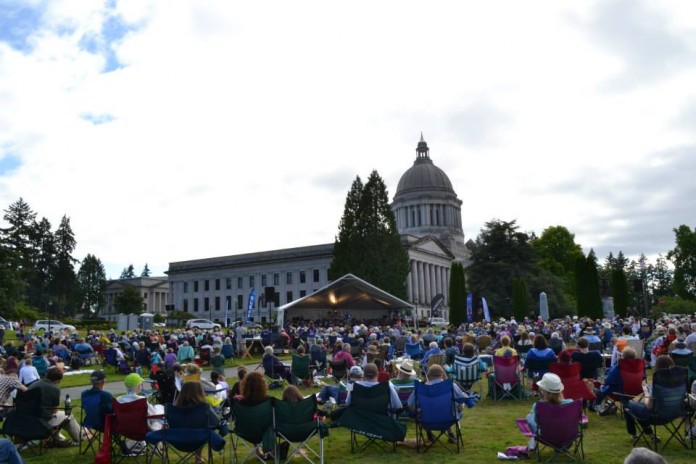 By Katie Doolittle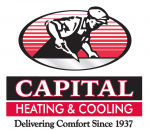 On Sunday, July 26, the Olympia Symphony Orchestra will perform its 9th annual free summer concert in the shadow of the Capitol dome. As always, the delightful combination of an expert orchestra and unique venue promises to draw thousands of music lovers to the Capitol Campus lawn.
If you're looking for a fabulous introduction to classical music, this is definitely it. In fact, the orchestra tailors this particular performance to families with children, playing shorter and often recognizable pieces. These include movements from longer classical works as well as lighter fare (think John Philip Sousa). Per their tradition, the orchestra will play both "The Star Spangled Banner" and Hal Leonard's "Armed Forces Salute." To celebrate one of this summer's cinematic blockbusters, the 2015 program also includes a medley from Jurassic Park.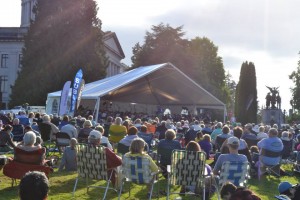 Huw Edwards, Music Director and Conductor for the Olympia Symphony Orchestra, describes the July concert program as "very user-friendly—we keep things moving." Here again, the venue provides a big assist. As Edwards points out, "People can bring a picnic and blanket or deck chairs. You're not hemmed into a specific seat. There's a little more free range and chance to roam." He describes how young concert attendees will often get up and dance to the music, or pretend to conduct the orchestra. One year, a ballet group even worked up an impromptu routine.
The free summer concert is just one facet of the orchestra's ongoing efforts to entertain, educate, and give back to the community. "We hope to make music available to everyone," says Edwards. "Tickets for our regular season at The Washington Center start at $10… less than the price of a movie now!"
So what's the point? Aside from being enjoyable—certainly an important consideration—Edwards describes art as "a great connection to history and humanity. I think if you're around genius and great arts, it's wonderful for the mind and the soul." Speaking specifically about music, he adds, "It's continually being created. Musicians are needed to bring the notes on the page to life. We want to be the curators and continuers of this great art form."
Brian Geddes, a symphony bassoonist for the past fifteen years, concurs. "I remember going to hear the OSO when I was in high school and being blown away by how much bigger the sound is in person than a recording," he says. "I like to think that we provide education and inspiration to budding young musicians, and joy and enrichment to the lives of community members who come participate in our concerts."
Geddes speaks for many local devotees of classical music when he praises the leadership that Edwards has brought to the Olympia Symphony Orchestra. "During Huw's time with the symphony, he's really challenged the orchestra to raise their level of performance and the players have responded.  The group is playing at a much higher level now than before he arrived." He applauds Edwards's consistent selection of challenging, interesting music and then adds, "He also has a knack for pulling off some terrible jokes at the concerts. The audience always seems to find them funny… I think it's the accent."
A native of Wales, Edwards has built an impressive resume working with orchestras all around the globe, but the Pacific Northwest—and Olympia, specifically—holds a special place in his heart. In fact, Edwards's longest single tenure is with the Olympia Symphony Orchestra, and he has just signed a contract extension that will keep him conducting here throughout 2026. "I like it here," says Edwards. "It's not that far from Seattle or Portland but it's much more manageable. I like the easygoing way of a smaller city."
The combined influence of the legislature, local colleges, thriving theater scene, and wealth of outdoor activities has created a unique atmosphere that Edwards appreciates. "There's this great independence to Olympia. People want it to have its own good restaurants, theater, shops, and art. I think it's a very supportive community."
The July concert is OSO's way of saying "thank you" for that support. First and foremost, it's made possible by the musicians' countless hours of dedication. But of course the sponsorship of local businesses also plays a huge role. Many thanks to the 2015 concert sponsors: Capital Heating and Cooling, Thurston First Bank, Group Health, Clarus Eye Centre, the law firm of Pope, Houser & Barnes, and Titus Will Dealership.
Enjoy the Olympia Symphony Orchestra in action. The ninth annual Concert on the Capitol Lawn lasts from 5:30 p.m. to 8:00 p.m. on Sunday, July 26. Come early to stake out a prime spot with your picnic blanket or lawn chairs!
Hoping to hear more? The Olympia Symphony Orchestra's 2015-2016 season begins on Sunday, October 4.  Visit the Symphony's website to preview the performance line-up and purchase tickets.