By Kathryn Millhorn
The sights, sounds, and smells of the Thurston County Fair embody summertime. Whether it's happy shrieks from the carnival rides, sweet cream-topped scones, or the warm hay smell of freshly brushed show animals, it's a perfect mid-point to the season.
But the Thurston County Fair offers more than easy amusement on a balmy afternoon. It can also be a tremendous learning tool both for participants and attendees.
Theresa Reid is the Fair Event Coordinator and has been with the organization for more than 10 years. She loves that "fairs have been around forever to share ideas and thoughts." She has been part of this continuity herself, having participated in 4H showings as an elementary school student.
Whether it's opening young minds to animals they've never seen before or providing examples of sustainable gardening through GRuB's raised garden beds or the Olympia Beekeeper's Association's pollinator's garden, the Fair can teach us so much.
Students across the country have long participated in regional fairs as part of the 4-H Program. Locally, Dianna Ullery, the WSU 4-H Youth Development Program Coordinator, agrees that "county fairs have always been an opportunity for members to show what they've learned during the year. They keep very busy during fair days, showing animals, doing public presentations and demonstrations, feeding and caring for animals, keeping the barns neat and clean, supporting their friends and siblings, finding their favorite fair foods, and having a great time. For many members the Thurston County Fair is the culminating experience of their 4-H year."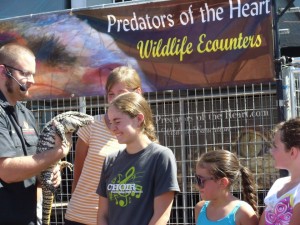 This partnership also benefits local homeschooling families. Ullery continues, "Families can start family learning clubs, learning cooperatives, or join community clubs to support their children's interests and learning. 4-H is a natural fit for homeschooling families because of our long history of experiential, hands-on learning."
Thurston County 4-H Teen Club member Kelly Byrne has found that "4-H has opened many doors for me to grow as a leader and a person. Few other activities teach you about how to teach others what you know, how to lead a group and teamwork."
"I owe pretty much everything I know to 4-H the adults and older teen leaders around me and for sure it's changed me a lot, for the better," continues Byrne. "Naturally I'm a shy, quiet person. But in 4-H I've learned speaking skills that help me get through talking in public and has actually made that one of my favorite things to do."
By having members on-site to answer questions, assist in hands-on activities, and show their wares, clubs educate both the public and their members through face-to-face interaction.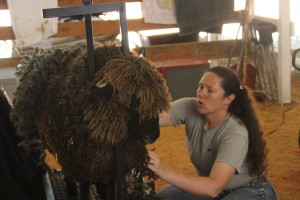 Outside of the 4-H experience, the Thurston County Fair strives to meet what Reid calls their "overall goal as an educational place." Their Passport Program for youth under 18 rewards visitors who stop at locations around the grounds. There is also a museum on site with memorabilia from more than 130 years of Fair history. The Thurston County Fair Foundation will also host Americana activities like watermelon seed spitting and pie-eating contests and old-fashioned games for fair-goers.
Reid and the other Fair volunteers love that "people come back year after year" for the vendors, food, and "to educate themselves about local businesses." There are concerts, a Diaper Derby, and even a 'Picture Yourself at the Thurston County Fair' selfie contest.
Friday, July 31 and Saturday, August 1 is the third annual Savor South Sound event featuring local beer, wine, cider, and salmon for the 21+ crowd looking to educate themselves about our region's hops, grapes, and fish.
This year's Thurston County Fair takes place from Wednesday, July 29 through Sunday, August 2. There are discount days for admission, rides, and activities because, as Reid stresses, "we want to make sure everybody can participate."
Call the Fair office with any questions at 360-786-5453 or visit their website for directions.