Submitted by Westport Winery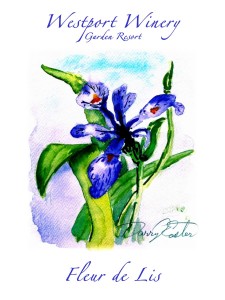 Westport Winery earned two medals at the Los Angeles International Wine Competition held in May. There were over 3000 wines entered from around the world.
Fleur de Lis, the winery's Pinot Gris made with grapes from Airfield Estates, earned a silver medal. A portion of the proceeds from this wine benefits Hoquiam's 7th Street Theater. The label features an original watercolor by Darryl Easter. An outdoor sculpture commemorating this wine was created by Clallam Bay artist Lora Malakoff. It is on display in the winery's sculpture garden.
Smoky Nor'wester, a blend of 95% Sangiovese and 5% Petite Sirah, earned a bronze medal. This wine benefits the Museum of the North Beach in Moclips. The sculpture honoring this wine was created by Westport carver Nicole Demmert.
When you visit Westport Winery Garden Resort be sure to explore the unique sculpture garden, lavender labyrinth, musical fence, 9-hole executive golf course, giant chess set, outdoor scrabble game, and grape maze, all located on the corner of Highway 105 and South Arbor Road halfway between Aberdeen and Westport. You will see why four times this has been voted Best of the Northwest Wine Destination.
These award-winning wines are exclusively available at the resort. The tasting room, gift shop, produce market, plant nursery, bakery and gardens, are open daily from 11 a.m. to 6 p.m. The restaurant is open for lunch daily from 11 a.m. to 4 p.m. and for dinner on Friday and Saturday from 4 p.m. to 8 p.m. For more information contact Westport Winery Garden Resort at 360-648-2224 or visit the website at www.westportwinery.com.