By Morgan Willie
Summer brings on a particular assortment of smells we're all pretty familiar with. 'Tis the season for wafts of sunscreen, salty air, fruity drinks, and fresh cut grass.
But, for Dan and Shelley Nicholson, co-chairs of the South Sound BBQ Festival committee, the smell of summer really lies in the piquant and memorable scent of a good old-fashioned backyard cookout.
The South Sound BBQ Festival is a celebration of Thurston County's camaraderie and excellence among local businesses and associations. It's a jamboree for all ages, featuring live music, children's activities, a beer garden, raffle prizes, contests and – of course – grilled favorites by the plenty.
Barbecued beef brisket, chicken thighs, baby back ribs, and seafood will collide in a massive, mouthwatering spectacle at Huntamer Park on July 11. It's an event you won't want to miss.
Dan and Shelly both agree that sunshine and the smell of barbecue are enough to make for the perfect summer day, but the committee's provided alternative and extra highlights so that everyone has something to enjoy.
A variety of vendors and booths will be attending the festival. You'll find non-profits such as Homeless Backpacks and Habitat for Humanity, and for-profits like Westfield Capital Mall and Fred Meyer all lined up together. Plus, the Seattle Sea Gals are scheduled to make an appearance and our local radio stations too – Mixx 96.1, 96.9 KAYO, and 94.5 Roxy.
Sierra Burton, Event Coordinator for the Lacey Chamber of Commerce, has given her heart and soul these past months in preparation for the barbecue festival, working in tandem with Dan and Shelly. Sierra has a special affection for the event, and she can't wait to see how this year's occasion pans out.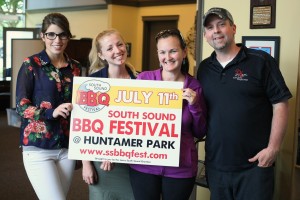 "Put it on your schedule now," she urged. "I'm not just saying that because I'm in charge of it. Don't question whether or not you should come because the festival is something where, if I'd known about it sooner, I would have been bringing my family each year."
Sierra reminisced about the festival saying, "Last year was my first year, but my favorite part was probably the music. I was in 'go-mode' all day long, but I loved hearing the music as I was working. It was good to see how happy everybody was, and how much fun they were having."
Dan also mentioned the jovial ambiance of the event.
"The overall atmosphere of the entire festival is awesome," he said. "Everybody is happy and the community comes together. It's fun for the whole family, I mean, it really is."
Shelly noted that her favorite bit of the South Sound BBQ Festival is watching the kids division of the chicken wing eating contest.
"They get their faces covered," she said. "They're so intense."
Shelly recommended getting to the festival as early as possible to sign up for the wing eating contests. She also noted that the first 750 people to arrive would receive a complimentary recipe booklet to recreate some of the festival's menu items at home.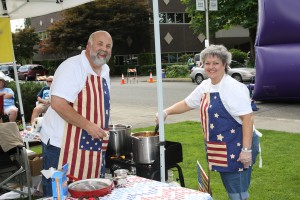 The barbeque festival is your chance to experience the smells, sounds, and tastes of summer at full strength while contributing to local businesses and making new acquaintances. As Sierra said, "Put it on your schedule now." It's sure to be a grillin' good time.
South Sound BBQ Festival
July 11 from 10:00 a.m. – 5:00 p.m.
Huntamer Park
618 Woodland Square Loop SE
Lacey, WA 98503